---
We have improved services significantly because we can launch multi-channel campaigns for new clients around 76% faster after moving RiMANGGIS to AWS.
Headquartered in Hong Kong, RADICA is a big data solutions provider that specializes in helping companies target consumers in Asia. RADICA's products help companies understand their data and create meaningful dialogues with customers using AI-powered text recognition and recommendation technology. The company also has offices in Shenzhen, Guangzhou, and Shanghai and serves a large customer base. RADICA's customers include leading brands, such as Levi's, FANCL, and BEA.
RADICA's suite of technology products includes a marketing automation platform, customer engagement solution, CRM consulting service, and its flagship RADICA RiMANGGIS platform. RADICA RiMANGGIS automates campaign activity and sends out as many as one million marketing messages a day. It also provides a detailed analysis of campaign performance to help optimize spend. RADICA's solutions enable companies to maximize the value of customer data, automatically convert multi-channel traffic into leads, and boost sales at a minimum cost.
To maximize the agility of RiMANGGIS, RADICA looked to migrate the platform to the cloud. Previously, the platform was supported by on-premises infrastructures in Hong Kong and Shenzhen. These environments lacked agility, so when a new customer came on board, it took up to three months for all the data to be integrated and tested, and for the platform to be campaign-ready. Furthermore, the infrastructures were largely manual. This meant RADICA IT personnel had to focus on daily management instead of developing new value-added services.
Wallis Chan, director of sales and services at RADICA says, "A large percentage of our IT resources were concentrated on servicing customers and their campaigns. We wanted to shift that focus so more emphasis is placed on service development." Chan identified cloud IT services as an opportunity to drive change. "We saw where IT was heading, and the cloud was increasingly mentioned in our customer discussions. The time was right to rethink our IT strategy."
RADICA chose Amazon Web Services (AWS) because of the extensiveness of its services and its standing among customers. Chan says, "Our development team was confident that AWS could meet our business needs. It was also clear to us that many clients were already using AWS to deliver IT and our clients supported our decision."
Today, RADICA is running RiMANGGIS on AWS. This includes the platform's delivery performance centerwhich acts like an SMTP gatewayfunneling electronic direct mailers (eDMs) to targeted consumers. The business is using AWS data centers in the Asia Pacific (Tokyo) Region and China (Beijing) Region. RADICA uses multiple Amazon Elastic Compute Cloud (Amazon EC2) instance types including M4, C4, R3, and l2, which provides very fast SSD-backed instance storage for high random I/O performance. Chan adds, "We also use Amazon Route 53 for fast DNS resolution and Elastic Load Balancing, which automatically distributes incoming traffic across multiple servers, and save us time in solving other issues like network bandwidth and backups."
To manage the complexity of message queuing, RADICA uses Amazon Simple Queue Service (Amazon SQS) and applies Redis for database caching. Storage for all multimedia data, including images and videos, is provided by Amazon Simple Storage Service (Amazon S3). "We have started using tools like AWS CloudFormation and AWS OpsWorks, which can improve the integration between AWS and automated deployment and batch management. Our server runs on Linux and our web server on NGINX. We value the open source developer tools available, as we can easily make adjustments to RiMANGGIS per project," says Chan.
The figure below illustrates RADICA's environment in AWS: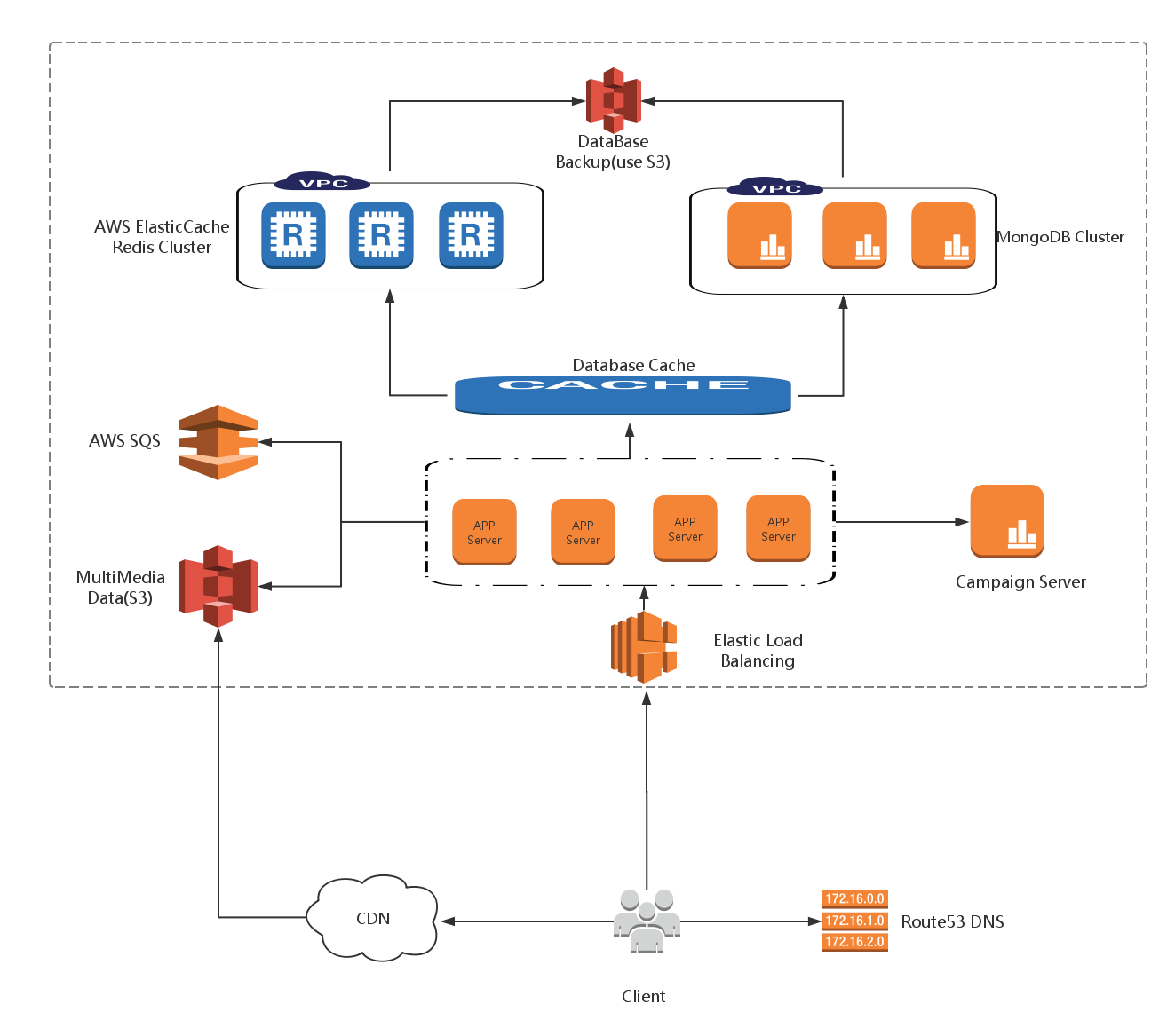 Now that it's running on AWS, RiMANGGIS is more agile, and the time it takes customers to realize the full potential of the eDM platform has been reduced. Prior to AWS, it could take up to three months for a customer to use RiMANGGIS to drive email, mobile, and social media messaging campaigns. Using AWS, this process takes no more than three weeks. Chan says, "We have improved services significantly because we can launch multichannel campaigns for new clients around 76 percent faster after moving RiMANGGIS to AWS."
The company has significantly reduced hardware expenses by migrating to AWS, and no longer operates a data center in Shenzhen. "We have cut platform costs by up to 30 percent because we don't have to maintain an on-premises platform, or the Shenzhen site," says Chan.
The reduction in spend, however, goes beyond hardware and data center costs. Because RADICA has stopped running RiMANGGIS in its data center, the company has been able to redirect much of its IT team away from daily management. "Forty percent of our IT team can now concentrate on development versus administration. By moving to AWS, we can place more emphasis on innovation and creating digital marketing services that will drive our business forward," says Chan.
Besides encouraging innovation, RADICA has aligned its IT strategy with that of its clients. A growing number of customers are running their IT systems in the cloud, and expect RADICA to do the same. "We know AWS instills a lot of confidence among enterprise customers, particularly over data security. We can now target new markets and develop our RiMANGGIS offering to reflect the changing requirements of marketers," says Chan.