AWS Elemental Server
Prepare file-based video on-premises for on-demand distribution
In a video processing workflow, a transcoder processes discrete video files, creating compressed versions of the original content to reduce its size, change its format, or increase compatibility with a wide range of video players used by connected TVs, mobile phones, computers, tablets, and game consoles. A transcoding solution for file-based content can convert any video input source, from high-quality studio masters to videos captured on mobile devices, and produce content ready for distribution to viewers. File-based transcoding solutions also package and protect content by preparing assets for on-demand delivery to multiple device types with integrated digital rights management (DRM). However, creating on-demand video assets at scale for broadcast-grade viewing experiences can be costly and time consuming.
With
AWS Elemental MediaConvert
, a file-based video transcoding service with broadcast-grade features, you can focus on delivering compelling media experiences without having to worry about the complexity of building and operating your own video processing infrastructure.
How it Works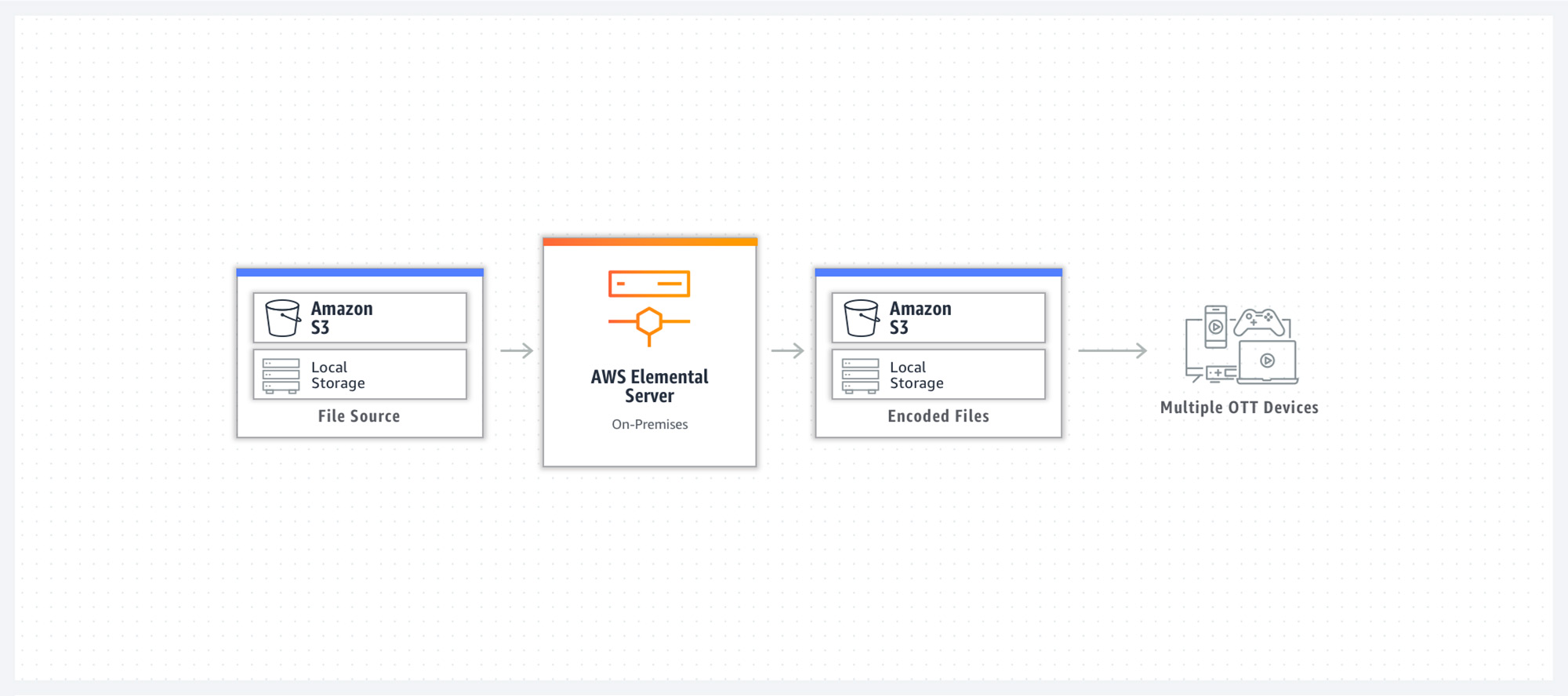 Customer Use Case
Australian free-to-air network SBS prioritizes the audience experience. The company deployed a new live streaming video workflow to scale with audience demand for the 2018 world soccer tournament. Powered by AWS Elemental appliance solutions, the new workflow assisted SBS to deliver tournament coverage of more than 50 live matches in HD over the SBS television network and via digital platforms. AWS Elemental Live appliance solutions encoded live feeds from the tournament event host in real time and AWS Elemental Server processed streamed content to enable live-to-video-on-demand (VOD) functionality for delivery to fans on television and connected devices across Australia.
Benefits
Deploy anywhere, deliver everywhere
AWS Elemental Server helps you convert content into formats used by consumer devices such as connected TVs, mobile phones, computers, tablets, and game consoles. Shift transcoded content to
AWS Elemental Media Services
for further processing, packaging, and delivery in the cloud. For file-based transcoding that needs to take place on-premises, Server prepares on-demand assets for distribution to your audiences wherever they are.
Prepare video for a wide range of screens
AWS Elemental Server lets you convert video files from a wide range of internet and professional media formats to produce high-quality video outputs that look great on any device. Take advantage of a comprehensive set of industry-standard output formats and available resolutions to tailor the viewing experience for consumer's screens and devices. Apply built-in graphic overlays, advanced audio features, and a range of captions to enhance viewing experiences and accessibility.

Adapt to changing needs
AWS Elemental Server lets you stay ahead of new and emerging industry standards for input and output formats and be ready to deliver outstanding experiences to new screens and devices. Upgrade your services and future-proof your video workflows with advanced support for 4K UHD, HDR, and HEVC video processing, as well emerging content standards such as Common Media Application Format (CMAF) and the Interoperable Master Format (IMF). Easy-to-update software keeps pace with industry standards so you can continue to deliver high-quality video as screens and devices evolve.
Simplify workflow management
Manage AWS Elemental Server via a web interface or REST/XML APIs for tasks such as system setup, workflow integration, job queuing, scheduling and prioritization, and integration with on-premises, cloud-based, or virtualized workflows. Use local storage or connect with
Amazon Simple Storage Service
(Amazon S3) for flexible media storage options. Choose the option to unify control and management of deployments for reduced setup time, simplified maintenance tasks and centralized upgrades.
Deliver great quality
High-quality preprocessing prepares video inputs to achieve maximum quality across a range of output formats and resolutions. Support for HEVC and H.264 AVC video encoding enables consistently high picture quality, efficient use of network bandwidth, with support for ultra-high definition resolutions and high dynamic range formats. Built-in quality-defined variable bitrate control (QVBR) automatically adjusts encoding to the level of complexity within each video frame, optimizing video quality and reducing stream bandwidth for savings of up to 50 percent on storage and CDN egress costs.