Build game backends without worrying about server infrastructure.


Benefits
Get started easily
Build game backends easily with out-of-the-box features that require minimal setup. Leverage integration with Unity game engine to accelerate game development without requiring knowledge of how to use underlying AWS services to build a game backend.
Focus on innovation
Reduce cost and time to launch a game with managed backend services, provisioned and scaled infrastructure, and ongoing maintenance. Focus on creating the best gaming experience, not spending unnecessary time on the backend.
Scale predictably
Scaling games can be difficult to predict. With Amazon GameSparks, games are automatically supported as they grow with AWS' industry-leading infrastructure, scalability, reliability, and simple and predictable pay-as-you-go pricing. Use AWS Lambda serverless functions to access any AWS service or integrate existing cloud-based game services.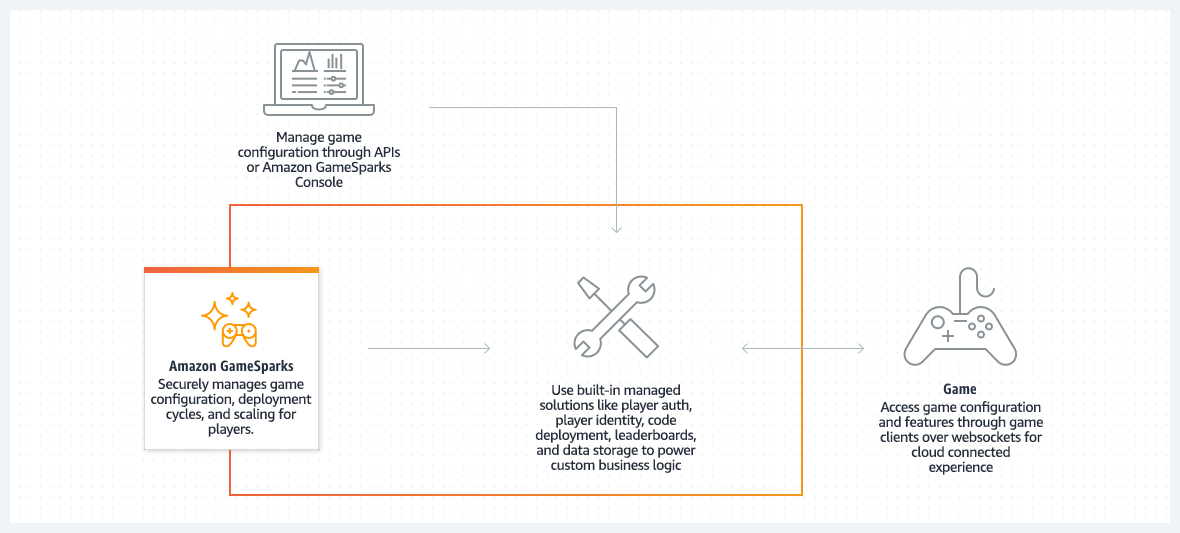 Resources
Find AWS documentation and game-specific samples, reference architectures, and more to help build, run, and grow a game in the cloud.

How to get started with Amazon GameSparks
Step 3: Deploy and test
Use the console to define game constructs and deploy the game for testing.

Use the test harness feature in the console to directly connect to the game backend and verify business logic.

Step 4: Game-client Integration
Download and install the Amazon GameSparks plugin for Unity.
Integrate backend game client using a game key or the sample game available following steps in the Developer Guide.

New to AWS Game Tech?
Choose from a range of game developer courses, explore our ramp-up guide, or build your skills with a hands-on lab.

Stay up-to-date with AWS for Games
Get updates from AWS Game Tech
Sign up for the newsletter to get the latest and greatest from AWS Game Tech in your inbox.
Get the newsletter
Sign up for an AWS Account
Create a free AWS account and starting building game workloads in the cloud today.
Sign up for free
Contact us.
Whether you're a team of one or one thousand, we'd love to learn more about your game development needs.