Matchmaking Site Shaadi.com Doubles Algorithm Testing Using AWS
Shaadi.com is one of the world's largest online matchmaking services, helping people around the world meet their life partners through a curated database of verified profiles. The company brought a traditional, local service into the digital age with choice and convenience. The core of its business is a computationally intensive, algorithm-based, profile-matching service.


With AWS, our developers can now do things they couldn't before. Our systems team can focus their energies on other challenges."

Dave Marin
Search and Data-Mining Engineer

The Challenge
Bringing People Together
After years of steady growth, Shaadi.com faced aging IT infrastructure that limited its ability to scale and innovate. To support expansion, increase agility, and reduce management complexity, the company migrated its entire solution from a hosted private cloud to Amazon Web Services (AWS).
The journey began with an initiative by Shaadi to make its data warehouse easier for business users to access. "With our previous solution, business and product managers could get data through reports, but only our engineers could access it at a more granular level," says Ajay Poddar, vice president of engineering at Shaadi.com. "We tried Amazon Redshift, which enabled business users to pull up data using basic SQL. The pilot users loved it, so we decided to adopt it as our data warehouse."
Amazon Redshift made it easy for Shaadi.com managers to visualize critical metrics such as usage rates, profile views, "likes," and traffic from affiliates and partners, in order to make data-driven decisions.

Why Amazon Web Services
Finding the Ideal Match

Pleased with the results of its Amazon Redshift adoption, the company decided to move its entire service to AWS. "We want vendors to manage as much of the technology as possible, so we can focus on the customers and algorithms that are the main drivers of value in our matchmaking business," says Poddar. The company began the migration to AWS in January 2016 and completed it by the end of March 2016.
The environment takes advantage of Amazon Elastic Compute Cloud (Amazon EC2) for processing across the platform, Amazon Simple Storage Service (Amazon S3) for object storage, and Amazon Simple Notification Service (Amazon SNS) for coordination among individual services. Amazon ElastiCache handles distributed in-memory data storage.
For databases, Shaadi.com uses both Amazon Relational Database Service (Amazon RDS) and Amazon Aurora depending on performance needs. Shaadi.com used the fully managed AWS Database Migration Service to keep source databases operational during the migration. "AWS Database Migration Service enabled us to keep downtime short as we moved from our private cloud to Amazon RDS and Amazon Aurora," says Poddar.
The company migrated its systems without significant code changes, yet could adopt best-of-breed AWS services for each use case. It switched from a single dedicated load balancer to several instances of Elastic Load Balancing to meet individual service requirements. It simplified database management with Amazon DynamoDB. And, it has started to use the Amazon Elasticsearch Service for rapid searching of big data, which provides 30 percent faster results than the company's previous solution.

Picture Perfect

Great photos are critical to helping Shaadi.com users find their right match. The company maintains a team that reviews photos to ensure they are appropriate. Automation promised to streamline the process, but the resource requirements in its previous environment were prohibitive. "Automating photo recognition on traditional infrastructure would have required us to procure, deploy, and manage multiple applications as well as new hardware," says Poddar.
Shaadi.com adopted Amazon Rekognition, a deep learning-based image-analysis service, using a combination of AWS Lambda serverless compute and custom APIs. "Using Amazon Rekognition, we quickly and affordably automated a highly complex process," says Poddar. "We expect to reduce the time it takes for a picture to appear on a user's profile by 95 percent, and we have cut manual work by 50 percent."

The Benefits
Increased Agility and Insights

Using AWS has dramatically increased business and technical users' visibility into Shaadi.com operations. "We have an application that pulls relevant numbers from Amazon Redshift every morning and sends them to people first thing, so they always have the latest," says Poddar. "A live tracker shows decision makers exactly what's going on with the site at all times, including how many likes, how many people are blocking others, and so on."
Whenever there is a patch or upload, the company can monitor metrics to see whether they have changed. "We do a lot of A/B testing, and the tracker gives you real-time information as to whether the change is good or bad so that we can make immediate adjustments," says Poddar.
Perhaps the most significant impact of the shift to AWS is that the company can innovate faster. "The biggest benefit is that we can try more things," says Poddar. "We don't have to procure equipment every time we want to develop a new application. We can experiment with architecture changes, create new services, and make our services better just by spinning up a few servers and trying stuff."
For example, the company is always working to improve its matchmaking algorithms. "In the old environment, we could only test one or two new algorithms each cycle," says Poddar. ""Using AWS, we can test more than twice as many algorithms at a time as we could previously. It's plug and play. Our customers benefit because we can implement improvements much faster than we could before, which can result in better, faster matches." And when you're helping people find their partner for life, sooner is better.

Shaadi.com website.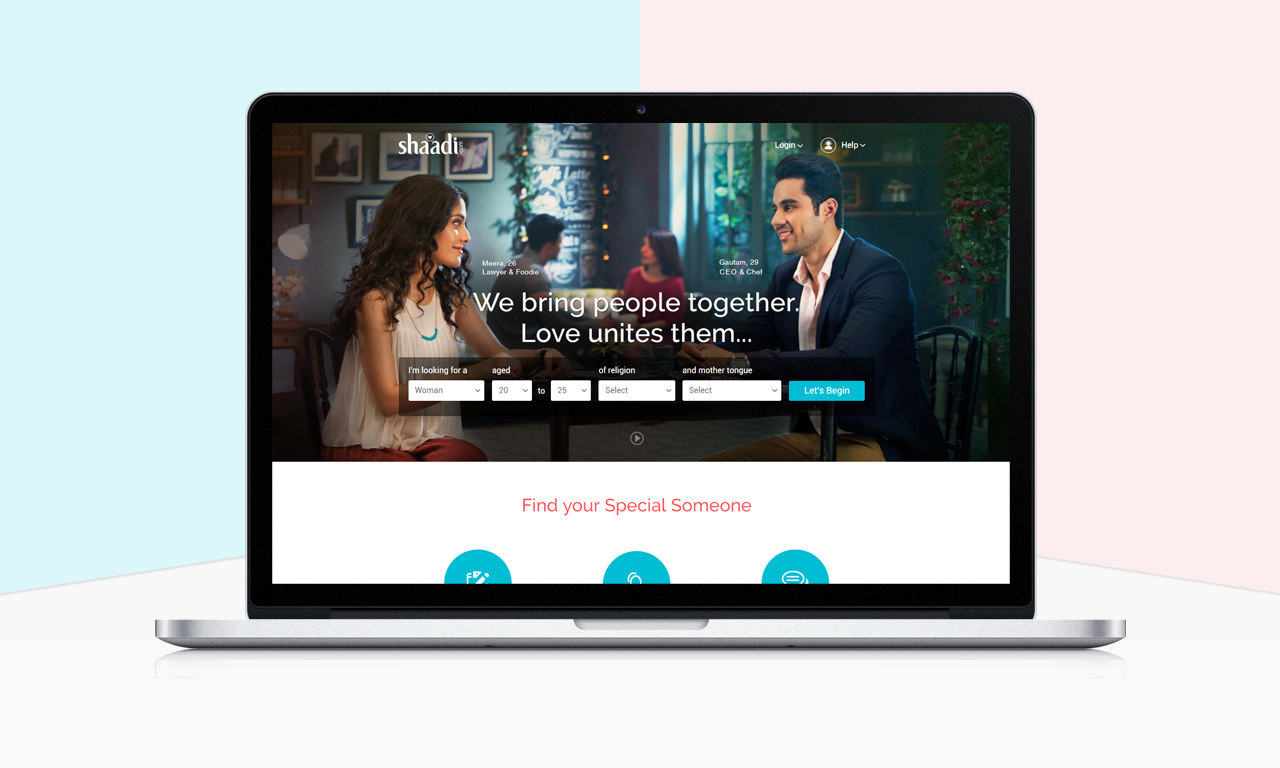 ---
About Shaadi.com
Shaadi.com, one of India's best-known brands and one of the world's largest matchmaking services, has helped people around the world find their soulmates since 1996 and has touched more than 35 million lives.

Benefits of AWS
Migrated from private cloud to AWS in three months with minimal downtime

Doubled the number of matchmaking algorithms that could be tested simultaneously

Provided greater visibility into service health and user experience with real-time feeds

Reduced time for users to get photos on profiles by 95%
Improved data-warehouse search performance by 30%

---
AWS Services Used
---
Get Started
Companies of all sizes across all industries are transforming their businesses every day using AWS. Contact our experts and start your own AWS Cloud journey today.