Hosting IBM i and AIX Systems with Low-Latency Connectivity to AWS with Connectria
By Jeff Fritz, Solutions Architect, Migrations – AWS
By David Wilderman, VP Solutions Architecture – Connectria
By Troy Mitchell, Director, Strategic Alliances – Connectria
Customers with IBM i and AIX environments are keen to accelerate their modernization with Amazon Web Services (AWS).
Whether part of a data center exit strategy, or for the mitigation of skills risk, by reducing complexity or cost customers can benefit from a low latency, hybrid solution that enables new use cases derived from the connectivity between managed IBM i/AIX and AWS.
The fully managed solution helps IT departments alleviate the cost and resource burden of supporting a specialized IBM environment, while letting them incrementally modernize their environment based on business priorities.
Replacing enterprise platforms with commodity x86 technologies as part of a cloud migration can be expensive, time consuming, and risky. AWS understands that having a variety of migration approaches and solutions to address different workloads and timelines is essential to getting these systems into the cloud with less cost, less change, and less risk.
The challenge for enterprise workloads is the velocity at which modernization can take place given investments in proprietary software, and the oft mission-critical nature of these workloads. One of the simplest paths to modernization is a hybrid cloud architecture that makes re-hosting a part of the cloud migration journey for many IBM i and AIX customers.
Connectria, an AWS Advanced Consulting Partner and audited AWS Managed Service Provider (MSP), also provides a fully managed hosting service for IBM i and AIX systems.
Through a high bandwidth, ultra-low latency connection, workloads running on IBM Power Systems hardware can efficiently communicate with connected workloads on AWS.
This meets the performance needs of a wide range of IBM i and AIX-dependent workloads. It gives businesses the opportunity to quickly migrate out of an existing data center, while then choosing to modernize at their own pace or simply extend the life of their IBM investment.
From Managed Services to Modernization Drivers
With the AWS Migration Competency, Connectria continues to provide proven customer success and technical proficiency with a specific focus on migration and managed services. Its cloud experts leverage a deep understanding of both IBM and AWS to seamlessly deliver innovative cloud solutions.
Connectria operates and is well versed in the support for mission-critical workloads running warehouse distribution systems, inventory management systems, full enterprise resource planning (ERP) systems, and more. In doing so for more than 20 years, Connectria has been in a unique position to understand and stay ahead of convergence trends in legacy and cloud infrastructure.
Known by some as the "IBM guys," Connectria is also the largest IBM service provider in North America.
IBM with AWS Hybrid Cloud Overview
Connectria's IBM with AWS hybrid cloud offering, shown in Figure 1 below, delivers a unique opportunity to leverage existing IBM Power Systems investments with the hyperscale cloud benefits of AWS.
Connectria provides the heavy lifting by assuming full responsibility for the operational health of the IBM Power System environment.
This offering starts with an assessment of the current environment, and Connectria then plans for and executes the migration of the existing IBM i/AIX environment, as-is, to Connectria's modern IBM Power Systems environment, while the connected/dependent x86 workloads are migrated to AWS.
Figure 1 – High-level production and DR AWS hybrid overview.
Backed by TRiA, Connectria's next-generation cloud management platform, Connectria provides a seamless transition of production from on-premises to cloud. It maintains an optimal operational state of both environments with 24/7 monitoring, managed operations and security services, maintenance, and DevOps support.
The ultra-low latency, sub 2ms connection between the IBM and AWS workloads using AWS Direct Connect is achieved by hosting IBM Power Systems in Connectria data centers located in close proximity to all AWS Availability Zones (AZs) in the US-East-1 and US-West-1 regions.
Users are then able to modernize the connected workloads in AWS with cloud-native services without having to modernize or replatform the IBM Power System.
This hybrid architecture opens up new possibilities for Power Systems investments for high availability deployments, advanced user experiences, and sophisticated data analytics with AWS cloud services. It also creates an ideal foundation for longer-term cloud migration goals, without refactoring IBM workloads.
Connectria | AWS Hybrid Cloud | Partner Connectivity
Not only does Connectria want this solution understood by end customers, they want to provide partners further insight into the solution connectivity. Connectria can work with you to set up this connectivity into its IBM Power Systems cloud so you can continue to manage your customer's AWS environment.
What would be necessary to set up that connection? Essentially, Connectria can do the whole thing soup to nuts, or you can follow the steps below to assess if you have what's needed to set up the connectivity yourself. Typically, the connection would utilize a virtual gateway (VGW), direct connect gateway (DGW), or transit gateway (TGW).
All of these methods are supported to connect new or existing workloads to Connectria's hybrid cloud. The example below shows a VGW-type connection from AWS into the Connectria hybrid cloud with either IBM i or IBM AIX LPARs.
For simplicity's sake, we have reduced the diagram to single pathways, but rest assured in the environment everything is duplicated and redundancy is built into all aspects.
Figure 2 – Virtual Private Gateway (VGW).
Connectria maintains all of the infrastructure in the box above labeled "Connectria Hybrid Data Center." The customer or partner would only have to provision the AWS services for Direct Connect and the private virtual interfaces into each virtual private cloud (VPC) to establish connectivity.
If the customer or partner doesn't feel comfortable or needs someone to guide them thru the process, Connectria can assist or, if needed, get temporary access to set up/provision resources, get connectivity in place, and then let you take over. The bandwidth of the circuit between Connectria and the VPCs can be as small as 50Mbps or as large as 40Gbps.
When looking at connectivity, there often are items in the data center which need to move with the IBM Power Systems, or the IBM Power Systems require additional communications equipment.
To address this concern, Connectria has developed an Edge Connect service which allows you to bring in telecommunications gear (routers, SD-WAN, VPN concentrators, or similar equipment) or other platforms (Oracle SPARC, physical appliances, HP-UX, or even mainframes) which need to be deployed alongside the IBM Power Systems.
The Edge Connect service can provide connectivity into the Connectria data center for the Power Systems or into AWS for the connected x86 workloads.
Architectural Diagram and Use Case Example
Organizations with an existing JD Edwards (JDE) environment can leverage the flexibility of AWS while keeping the platform configured in a similar manner to how it's configured in the data center today.
In Figure 3 below, this common use case is leveraging the IBM i for the database (DB2), logic, and batch processes for JDE and AWS x86 resources for all of the frontend services for JDE.
This configuration is similar to a single data center leveraging the IBM i and an x86 hypervisor for the virtual machines. The configuration lets customers decide how they want to move forward with the IBM i platform. By moving the workload closer to AWS, you can begin exploring the use of new technologies like Alexa voice controls, business dashboards, or artificial intelligence (AI) with the existing database.
If a customer is considering a long-term move away from the IBM i platform, Connectria can provide the hardware as well as engineers with the skills to continue to maintain the platform while the development is ongoing. Connectria can even maintain an archived environment after the platform has been sunsetted.
Connectria provides monitoring and management of the entire AWS and IBM i platform via a single pane of glass in its cloud management platform, TRiA.
Figure 3 – Sample JDE environment on AWS.
Unlocking New Capabilities
Connectria provides IBM i and AIX customers a reliable, fully managed hosting solution with low-latency connectivity options to AWS.
The service provides migration and modernization pathways for IBM i and AIX customers looking to modernize mission-critical workloads over time with less risk. It provides opportunities to augment existing legacy applications in new ways, or develop new applications that desire to leverage legacy processes and data.
This section looks at ways in which customers can start to drive value for their business by using AWS to augment existing IBM i and AIX platforms. There are many options, four of which are presented in the diagram below.
The specific options discussed here will be:
Data analytics
Backup and archival
Note the overview described in this post illustrates the concept behind IBM on AWS. Many factors can affect performance and results may vary due to unknown and uncontrollable factors. This information in no way represents any form of warranty or guarantee of performance.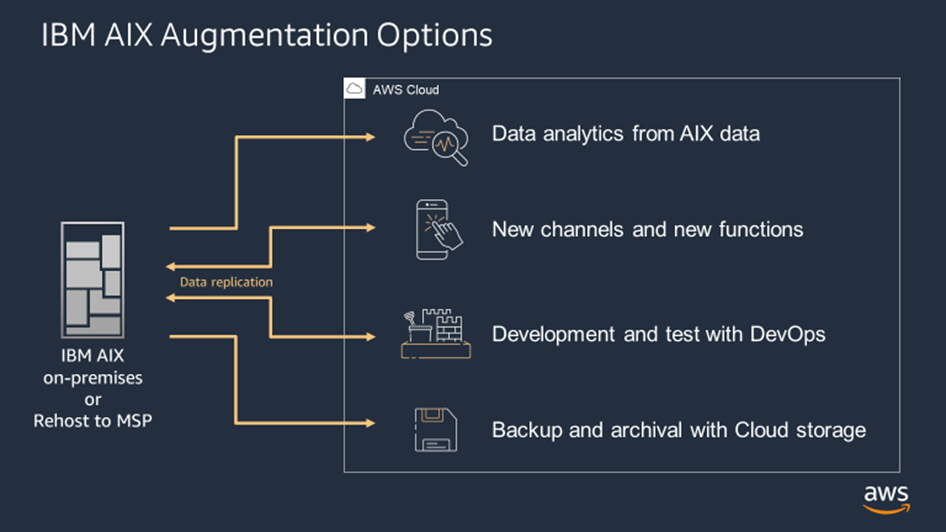 Figure 4 – IBM i/AIX augmentation options.
Augmentation Pattern 1: Data Analytics
Augment IBM i/AIX workloads with agile data analytics services on AWS. Years of historical business transactions for massive amounts of users is quite common on these systems, and there are strong advantages for business who wish to benefit from this data.
Unlock IBM i/AIX data's value with AWS data analytics services. Business will gain analytics capabilities by taking advantage of the AWS data lake mixing of structured and unstructured data that's cataloged in one place for streamlined reporting. This capability delivers insight into core business data originating from IBM i/AIX.
Data replication relies on native, third-party, or AWS tools. These tools copy IBM i/AIX data in near real-time or in batch. When in real-time, it keeps data fresh, allowing for up-to-date analytics and dashboards.
Once replicated, AWS provides services for the full data life cycle. For example: Ingestion (Amazon Kinesis); storage (Amazon S3, Amazon RDS, Amazon Aurora, Amazon DynamoDB); processing and analysis (Amazon EMR); visualization (Amazon QuickSight); transformation (AWS Glue); and automation (AWS Data Pipeline).
Customer Example (Midrange)
The customer designed and implemented real-time dashboards and reporting on AWS. They rely on booking data coming from the midrange via a messaging middleware. This data flows to Amazon S3, Amazon DynamoDB, and Amazon Redshift for processing and visualization.
The customer uses this solution for analytics about sales, marketing, revenue, and fraud.
Figure 5 – Data analytics augmentation options.
Augmentation Pattern 2: Backup and Archival
IBM i/AIX servers can use storage (SAN or NAS), automated tape libraries, or virtual tape servers for backup and archival. Plus, they can use plenty of physical tapes. These tapes need to be stored, organized, and transported to vaults and disaster recovery sites.
All of this is very expensive and rigid. There's a more cost-effective approach by using AWS storage, which can be used for archival, backup, and recovery of on-premises data.
This solution securely transfers data from on-premises to AWS storage over the network (TCP/IP). It can be secured with virtual private network (VPN) encryption and with dedicated networks such as AWS Direct Connect.
On the AWS side, you can store backups and archived data in Amazon S3, Amazon S3 Glacier, Amazon Elastic File Service (Amazon EFS), or Amazon Elastic Block Store (Amazon EBS) volumes.
Typical Customer Use Cases
Backup and disaster recovery using AWS.
Archival for regulatory and compliance reasons.
Archival to remove the cost and operations of the expensive storage or virtual tape servers and virtual tape libraries.
Figure 6 – Backup and archival augmentation options.
These are just two examples of the augmentation capabilities that existing with AWS services. Both unlock the capabilities of your legacy data and applications in a way that addresses the velocity of the business and migration and modernization goals.
Conclusion
Connectria and AWS are teaming up to help solve and simplify re-hosting and modernization opportunities with IBM Power System workloads.
Both Connectria and AWS are leveraging distinct areas of expertise to present a unified solution to empower your cloud journey. Whether you need near or long-term support for migration, augmentation, or modernization of your IBM Power Systems, we can help.
Along with Connectria's flexible IBM hybrid cloud solution with AWS, you get Connectria's extensive IBM expertise and advanced AWS consulting and managed services that together deliver a comprehensive solution and world-class experience for any IBM Power System environment.
Connectria's IBM hybrid cloud solution with AWS provides a simple path to cloud and a natural path to augmentation or modernization.
Learn more about Connectria's IBM Power Systems and AWS hybrid architecture:
Get started with Connectria's IBM i and AWS hybrid cloud.
---
Connectria – AWS Partner Spotlight
Connectria is an AWS Migration Competency Partner and MSP with that provides a fully managed hosting service for IBM i and AIX systems.
Contact Connectria | Partner Overview
*Already worked with Connectria? Rate the Partner
*To review an AWS Partner, you must be a customer that has worked with them directly on a project.