AWS Executive Insights
Perspectives on enabling cloud innovation and transformation through culture, talent, and leadership

NEW
AWS Conversations with Leaders Podcast
Executive perspectives on leadership, organizational change, and technology modernization.
As new technologies and emerging competitors disrupt established industries, leaders around the world are transforming their organizations with cloud computing to deliver business value and impact to their customers. Accelerate your own transformation with these best practices, lessons, and transformative ideas from leaders like you who are using AWS to create new forms of business value.

Conversations with leaders
AWS Enterprise Strategists sit down with some of today's most innovative cloud leaders to discuss their strategies for success

Leader spotlights
Today's innovative and inspiring leaders are using the cloud to change how business is done. Through a series of interviews, our AWS Enterprise Strategists sit down with these leaders to learn more about their strategies for transformation, what inspires them, and how they prioritize technology investment.
What does it take to be a digital CFO?

AWS Enterprise Strategist Mark Schwartz explores what today's digital CFOs have in common

Drive digital transformation
Do you know how to measure innovation?

Discover the single metric CEOs are using to accelerate innovation and unlock growth

Accelerate innovation
Meet the AWS Enterprise Strategists
AWS Enterprise Strategists work with enterprise technology executives around the globe to share experiences and strategies for how the cloud can help them increase speed and agility while devoting more of their resources to their customers.

Phil Le-Brun
Phil joined AWS as an Enterprise Strategist and Evangelist in September 2019. In this role, he shares practical lessons from his experiences implementing technology at scale. He uses these lessons to help enterprises succeed in achieving their own cloud-based technology goals to support organizational agility and customer-centricity.

Jonathan Allen
Prior to joining AWS in 2017, Jonathan was Chief Technology Officer and Senior Director in Capital One Banks UK division. Jonathan was part of the bank's Global Technology Leadership team that was accountable for architecting, engineering, and executing the technical build out and system migrations of the bank's AWS Cloud strategy. He partnered with the US divisions until 2017 by which all development moved to a cloud-first approach.

Thomas Blood
Thomas Blood is an Enterprise Strategist at Amazon Web Services in EMEA. Prior to joining AWS, he held executive and technology roles in the public and private sector. He has a Masters in International Security and Information Management from Cal State Monterey Bay. Thomas is a US Army Veteran with tours in Europe and the Middle East. He speaks English, German, Spanish, and some French and Arabic.
Jake Burns
Prior to joining AWS, Jake was Vice President of Cloud Services at Live Nation Entertainment, where he was responsible for leading the company's cloud transformation including an accelerated all-in migration to AWS, achieving an immediate 18% savings in infrastructure TCO with an additional 30% savings the following year, as well as significant measured increases in agility, security, and reliability.
Joe Chung
Joe joined AWS as Enterprise Strategist and Evangelist in 2016. Previously, Joe was a managing director in Accenture's award winning IT organization where he was responsible for enterprise architecture, agile delivery, and innovation. He drove the foundational components of Accenture IT digital strategy which included defining and implementing Accenture's cloud strategy, next generation analytics platform, and modern web and mobile architectures.
Bryan Landerman
Prior to joining AWS, Bryan was the Chief Technology Officer at Cox Automotive, where he led an effort to transform software delivery. In addition to tackling the delivery processes, Bryan and the team shifted their organizational structure to better enable a "You Build It, You Run It" approach. Coupling these shifts with an all-in cloud migration to AWS, Cox Automotive is now on a journey to reduce their data center footprint from 50+ to less than 5.

Miriam McLemore
Prior to joining AWS, Miriam was the Chief Information Officer, Corporate and Consumer Technologies, and a leader in the Global Information Technology Division of The Coca-Cola Company. In this role, she provided global leadership on all technology matters in support of global marketing, consumer/commercial leadership, product R&D, human resources, legal, sustainability, public affairs, and strategic security.
Philip Potloff
Philip joined AWS in 2017 and serves as the Head of Enterprise Strategy. In this role, Philip works with enterprise technology executives to share experiences and strategies for how the cloud can help them increase speed and agility while devoting more of their resources to their customers. Prior to joining AWS, Philip was the COO and CIO at Edmunds.com.
Clarke Rodgers
Clarke works with enterprise security, risk, and compliance focused executives on how they can strengthen their security posture and capabilities. Prior to AWS, Clarke was a CISO for the North American operations of a multinational insurance/reinsurance company, where he led an all-in migration to AWS in order to achieve security goals, including SOC2/Type2 attestation.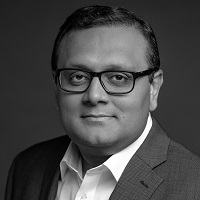 Ishit Vachhrajani
Prior to joining AWS, Ishit was Chief Technology Officer at A+E Networks, responsible for global technology across cloud, architecture, enterprise applications and products, data analytics, technology operations, and cyber security. Ishit led a major transformation, moving over 85% of the applications to the cloud, implementing a unified global financial system, creating a new data analytics platform, and significantly reducing operational costs with automation and managed services.
Xia Zhang
Xia has more than 20 years of experience in IT development, business development, and enterprise IT technology and management, both in the USA and China. Prior to joining AWS, Xia was CEO of Wyvern Infotech, CTO of SAP Greater China, and CTO for Retail Banking and Credit Card Center, Bank of China. He has expertise in the field of cloud, mobile, social, big data, AI and IoT, and his career interests focused on creating business value by business innovation and technology adoption.

Create a culture of security
Hire and retain skilled talent
What's top of mind for cloud leaders?
Explore our Conversations with Leaders video series