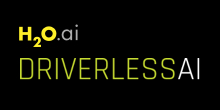 H2O.ai
| 1.10.5
Linux/Unix, Ubuntu ubuntu20.04 - 64-bit Amazon Machine Image (AMI)
External reviews
External reviews are not included in the AWS star rating for the product.
---
This product doesn't work on AWS
March 19, 2020

Review verified by AWS Marketplace
I'd suggest a different cloud service, as I was not able to run the Driverless AI on AWS. Additionally, reach out to H2o.ai and ask for a range of cpu instances that will work for your particular region.
---