Find and deploy GeoSpatial Solutions and Location-Based Services in minutes

A Geographic Information System (GIS) supports the creation, management, and analysis of spatial and geographic data to discover relationships and patterns. GIS enables people to more easily see, analyze and understand patterns and relationships and is changing the way we interpret data around us. Real world applications include road infrastructure projects, traffic management, crime analysis, public safety, geo-targeted advertising and geo-referenced Weather services.
AWS Marketplace has dozens of GIS, Geospatial and Location-Based applications that can benefit your routing, planning, predictive modeling and mapping, to deliver richer and more meaningful customer solutions. Easily launch intelligence location and mapping solutions into your AWS account and start understanding the world around you in a new way.
Find and deploy a solution in minutes

No upfront cost, pay-as-you-go pricing.

Scale globally across AWS regions.
---
GIS servers provide a powerful tool for considering problems or issues with spatial components. You can host your own GIS server in the cloud as an integral part of business strategy, and to support your business objectives. Or if you prefer, you can subscribe to a GIS service through AWS Marketplace. Your company can benefit from 2- and 3-dimensional mapping, image processing, geospatial extensions, and much more.

---
Mapping allows the spatial relationships of specific features such as physical features, natural resources, population, elevation and economic activities to be represented and interpreted to solve business challenges.  As an example, geographic navigation software doesn't just help you get to your destination, it can also help your company's operations team plan the best routes, avoid traffic tie-ups, and increase overall efficiencies. Adding navigational data to prospect and customer data can help you find your target market and reach them where they live and work.
---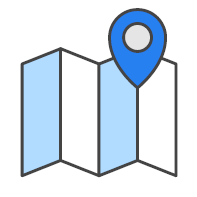 Geocoding is the process of transforming a description of a location such as a pair of coordinates or an address or name of a place to a geographic location. It helps companies recognize patterns within this information and make more precise decisions based on actual physical locations rather than approximations. You can add geocoding to your business software to improve business efficiencies.
---
Spatial data is any kind of information that has been collected, compiled or processed with a spatial component meaning it is tied to a geographic location on the surface of the Earth. Business data coupled with maps allows for creative analytical insights around market tendencies and movements. Spatial Analytics offer new opportunities for companies and analysts to interpret data and make smarter business decisions.