Voice technology is a natural way for students to interact with their education. With Amazon Alexa, students worldwide are getting more from their educational experience by simplifying how they get information and stay organized. Institutions can personalize campus life by building a private skill, giving students daily flash briefings and helping them quickly find campus information. EdTechs and learning companies can reach students where they live and study with access to coursework, study prep, or financial aid information.

Watch how Amazon Alexa is changing how students live and learn »
How Alexa Helps in Education
Higher Education
Create a smart, connected campus by bringing voice to dorm rooms, student unions, and stadiums. Build Alexa skills customized to your campus, giving students easy access to school schedules, phone directories, and parking.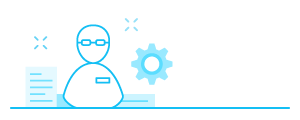 EdTechs and Learning Companies
Future-proof your product with the next-generation user interface: voice. Voice technology's convenient, natural interface simplifies how students access test prep, check on grades, or get reminders about homework.
Benefits
Save Students Time
Alexa helps students be more productive. Students can quickly find relevant information like directions to the library, availability for academic advising appointments, and bus routes without having to click through the university website. Simply ask Alexa for answers to the most common questions on campus.
Campus-Wide Management
With Alexa for Business, schools can conveniently manage all Alexa-enabled devices on campus through a centralized console. Administrators can provision multiple Alexa devices at once, automatically connect devices to your institution's account, specify device locations, and enable authorized skills.
Future-Proof Your Products
With available APIs, educational technology and learning companies can build Alexa skills to enhance student life. Build a learning management system skill so students can find course information. Integrate into smart classrooms so instructors can use Alexa to turn on room control or trigger lecture-capture systems.
Reach Students Everywhere
In dorms, at the library, and on the go, Alexa-enabled devices help students stay informed with reminders, alerts, and schedules. EdTechs and learning companies can introduce new skills and integrate Alexa into their products providing easy access to information for students, parents, and administrators.
Alexa Learns New Skills at Northeastern University
Husky Helper, Northeastern University's skill, allows students to query statuses related to financial aid, campus happenings, and more. Watch this presentation to learn how Alexa Skills Kit and Alexa for Business create a personalized experience with voice.

Customer Stories
Higher education institutions, EdTechs, and learning companies are already delivering voice-enabled solutions that help students acclimate to college, help instructors personalize learning, and even give insight into substitute teaching schedules.
Resources
Check out these Alexa products and programs available to help you deliver voice to your students.

Get started
Contact us to deliver a personalized, voice-enabled experience for your students and customers.