Government transformation conversations
Leaders share top transformation wins and blockers
Chief information officers (CIOs) and digital directors from Spanish government services share the gains from digital transformation, and the challenges they face as they modernize.

Government data management good practice
Find recommendations and good practice for strong data management for building excellence in government in this Asian Development Bank and Amazon Web Services Institute report.
World-leading insight and public sector case studies to help your transformation journey
Get started with the cloud
Learn more »
Build responsive public services
Learn more »
Innovate securely
Learn more »
Design public procurement for digital transformation
Whole-of-government digital transformation and impactful, sustainable change must leverage internet-era principles, methods, and work practices beyond the digital and technology functions. Warren Smith, a leader behind GOV.UK Digital Marketplace and now a procurement consultant at CURSHAW, shares insight.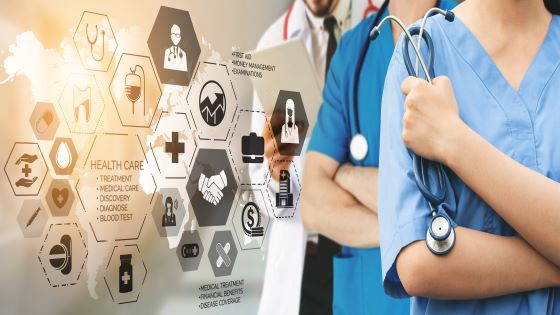 Digital health strategy in action
Singapore public sector modernization puts users first
Governments such as Singapore's transform the way citizens interact with them by putting the user's needs first. Digital leader Chan Cheow Hoe, Singapore's chief technology officer, explains how this approach, together with adopting cloud technology, delivers modern and accessible citizen services.

Meet sustainability and climate goals with the cloud
Japan aims to achieve carbon neutrality by 2050 and to cut greenhouse gas emissions by 46% in 2030, compared to 2013 levels. Makishima Karen, Japan's digital minister 2021-2022, says: "The transition to a sustainable society through digital technologies will transform business strategy over the next decade." Find out why in this video and hear more from experts who spoke at the AWS and Eco-Business Asia-Pacific Sustainability Summit.
Digital identity essentials
National digital identity schemes underpin large-scale public sector transformations to make services more accessible and seamless for citizens. Maria-Ines Baque and Deepti V Dutt, who led implementation programs in Argentina and in India, before joining Amazon Web Services, say that the technology is not the biggest challenge. Learn more about building digital identity for 1bn people.
South Africa re-energizes transformation
South Africa's government wants to accelerate digital technology adoption to support better public services while providing skills and jobs for its expanding youth population. Find out more from the government's digital transformation leaders in this summary of a recent AWS Institute and University of Pretoria executive program.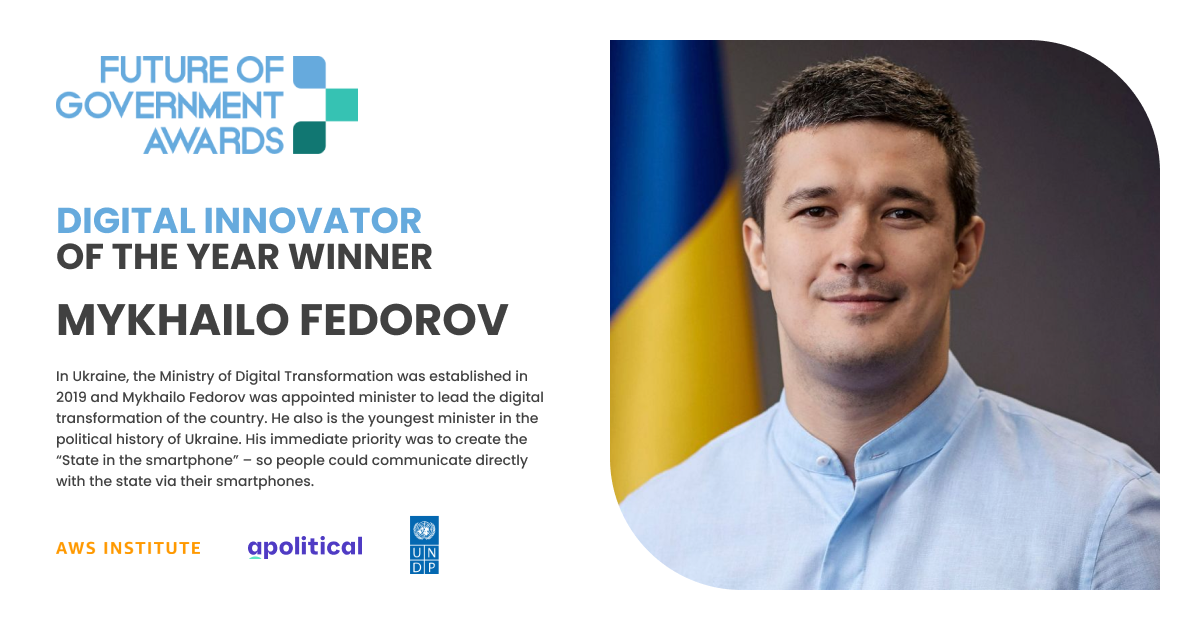 Future of Government Awards winners announced
Meet the winners of the inaugural Future of Government Awards hosted by AWS Institute, Apolitical and UNDP to champion open source solutions that accelerate digital transformation and positive change. Digital Innovator of the Year, Mykhailo Fedorov; Open Source Creation of the Year, Italian public services app IO; and Open Source Adaptation of the Year, Cambodia Data eXchange (CamDX).
Read the blog »
Digital identity drives innovation
Governments around the world implement digital identity (digital ID) systems to improve social services and promote innovation. This AWS Institute report, with the Access Partnership, offers practical insights for public sector leaders who want a well-designed and successful digital ID system.

Governments can look to AI to sustain digital transformation success
The public sector in Australia was an early adopter of digital technology and Australia is a leader in the
UN E-Government Survey
. A business technology academic and an experienced nation-scale modernizer explore how investment in Artificial Intelligence (AI) could re-energize governments' digital progress.
Modernize public healthcare
The cloud has often been called a game-changer for digital health, but its true benefits have only come to the fore since the onset of the COVID-19 pandemic. This report explores how governments are realizing these gains.

Be secure in the cloud
Security is the most important part of nation-scale transformation and the challenges include tackling legacy approaches to data protection, say two experienced reformers. Alex Meek-Holmes, government transformation advisor at Amazon Web Services, and Ian McCormack, deputy director, government sector, at the U.K. National Cyber Security Centre, describe why sharing best practice and standards openly delivers better outcomes.

Transport's future is green
Europe aims to be the first climate-neutral continent by 2050, cutting Greenhouse Gas (GHG) emissions by at least 55% by 2030. Transport accounts for 28% of GHG within the EU. This AWS Institute report explores how cloud technology makes transport greener and more resilient, from managing traffic signals through intersection surveillance, to smart parking and public transport systems.

Public sector buys better
Leaders around the world face common challenges as they modernize public services. Buy Better shows how the U.K. government transformed procurement to unblock modernization, and how other nations use the knowledge.

Open data drives social change
The U.K. published government data about ethnicity and so accelerated healthcare and education policy change. Zamila Bunglawala, International Director at the Department for Education, and Caroline Mulligan, senior manager in the government transformation team at Amazon Web Services, explain how they implemented this pioneering project. Other nations are using the blueprint to support their own missions.
Cloud adoption signals innovative mindset
Governments share solutions to accelerate their transformation
Governments can use technology that others have developed and made freely available using open source to deliver reform. Read about the ways they benefit from sharing solutions to common problems in this AWS Institute blog, and find out more in the AWS Institute Building for Reuse film.
Leaders share transformation essentials for success
Public service transformation needs strong leaders with the vision to change culture, not just the IT system, according to the U.K. government's former chief technology officer, Liam Maxwell, now director of government transformation at Amazon Web Services (AWS). Think Big is the first film in the Transformation Essentials for Public Service Leaders series from the AWS Institute. More episodes cover starting small, transforming securely, and using what already works for organizations all over the world.

The carbon reduction opportunity of moving to the cloud for APAC
Many enterprises and public sector organizations are unaware that moving workloads to the cloud can also dramatically reduce their energy use. This report from 451 Research and the AWS Institute calculates the benefit. The report is now available in Japanese and Korean.

Three ways the cloud cuts carbon
Ken Haig, head, energy and environment policy in the Asia-Pacific & Japan region at Amazon Web Services, shares highlights from the recent 451 Research study commissioned by the AWS Institute in this GovInsider short film.

The Cloud accelerates climate change research
From shark monitoring to glacier melt, data helps us understand climate change's impact on the environment. These six stories, from Tasmania and Peru to the continents of Africa and Antarctica, show how the cloud is helping scientists and policymakers.

Read the paper in English, Spanish, or Portuguese »
The digital city starts here
City administrations of all sizes are increasingly able to use technology to help understand how citizens use services and amenities. This Open and Agile Smart Cities (OASC) guide, supported by the AWS Institute, offers information about getting started.
How open government works well for Buenos Aires
Florencia Romano, undersecretary of open government & accountability of the government of the City of Buenos Aires, says the city's pioneering approach engages citizens and makes public services easier to use. (Spanish with English subtitles.)
The cloud has a green lining
Renewable energy is changing the way that technology is powered and is one of the factors that this expert panel examines as they explore why moving to the cloud cuts organizations' carbon footprint. Adam Turner, food and rural affairs sustainable technology lead at the U.K. Department for Environment, Food and Rural Affairs; Kelly Morgan, research director of data center infrastructure and managed services at 451 Research, and Ken Haig, energy and environment policy head for Asia Pacific and Japan at Amazon Web Services, discuss the challenges and opportunities in this GovInsider podcast for AWS Institute.

Southeast Asia's Cloud Story: impact, inclusivity, and growth
Cloud technology has played a crucial role in empowering people across Southeast Asia by making services, including finance, accessible to traditionally under-served communities.

Austria moves toward government as a service
The pandemic highlighted the need for fast and wide-ranging reforms in the digital provision of public services worldwide. In Austria, the focus is on changing the civil service culture and opening up access to the skills and data needed to provide better services to citizens in a more timely manner.

Christian Rupp, former Federal Executive Secretary, eGovernment Austria, says: "We need a culture of 100 percent online services 24 hours a day. This means provision for digital applications or inquiries through to internal processing, approval, and payment. At the same time, there needs to be secure system access for civil servants working from home and the ability for big data analytics and data sharing across different administrations".

Podcast series explores the cloud's impact on Latin America
The Estado Digital series explores how technology can solve social and public policy challenges in Latin America. It includes stories in important sectors, such as the Salud Digtal episode, which explores how countries are moving towards digital delivery of services, especially telemedicine, and the way artificial intelligence is used in diagnostics and patient care.
A year of transformation reviewed
Cloud computing supports public sector transformation all over the world. There are many common challenges and solutions, and the benefits are universal: speed, scale, and security. The AWS Institute Year in Review reflects the variety of reforms that governments, and other public sector organisations, have explored and implemented in 2021.
Read the report in English »
Read the report in Spanish »
AWS Institute Executive Education
AWS Institute offers a complementary Executive Education program to equip senior public servants and elected officials with the knowledge to lead digital transformation. You will be part of a small cohort learning from global thought leaders and practitioners. The three-module program fosters peer-to-peer learning and support and offers a library of master class lectures.

"I enjoyed the session, it addressed pertinent issues that we are grappling with in the public sector. It was ... practical ... for policy and decision makers."

Executive Education program participant from South Africa

"The lecturers are big names and ... presented valuable information for application in the public service."

Executive Education program participant from U.A.E.