Control without compromise
Meet your digital sovereignty requirements without compromising on the capabilities, performance, innovation, and scale of the AWS Cloud

Digital Sovereignty at AWS
Digital Sovereignty at AWS
We are committed to helping our customers meet digital sovereignty requirements and offering all AWS customers the most advanced set of sovereignty controls and features available in the cloud.

Transparency and Assurances
Sovereign-by-Design

Our approach to digital sovereignty is to continue to make the AWS Cloud sovereign-by-design as it has been from day one. We will continue to architect and build AWS and deliver features and controls so that you can use AWS services while meeting your regulatory requirements. We will continue to invest in an ambitious roadmap of capabilities for data residency, granular access restriction, encryption and resilience.


Transparency and Assurances

At AWS, earning customer trust is the foundation of our business. We understand that protecting your customer data is key to achieving this. We also know that trust must continue to be earned through transparency. We are transparent about how our services process and transfer data. We will continue to challenge requests for customer data from law enforcement and government agencies. We provide guidance, compliance evidence, and contractual commitments so that our customers can use AWS services to meet compliance and regulatory requirements.


Our Trusted Partners

Our partners play a prominent role in bringing solutions to customers. For example, in Germany, T-Systems (part of Deutsche Telekom) offers Data Protection as a Managed Service on AWS. It provides guidance to help ensure data residency controls are properly configured, offering services for the configuration and management of encryption keys and expertise to help guide their customers in addressing their data protection and sovereignty requirements in the AWS Cloud.

Delivering on the AWS Digital Sovereignty Pledge
The AWS Digital Sovereignty Pledge is our commitment to offering AWS customers the most advanced set of sovereignty controls and features available in the cloud. We committed to expanding our capabilities to allow you to meet your digital sovereignty needs, without compromising on the performance, innovation, security, or scale of the AWS Cloud.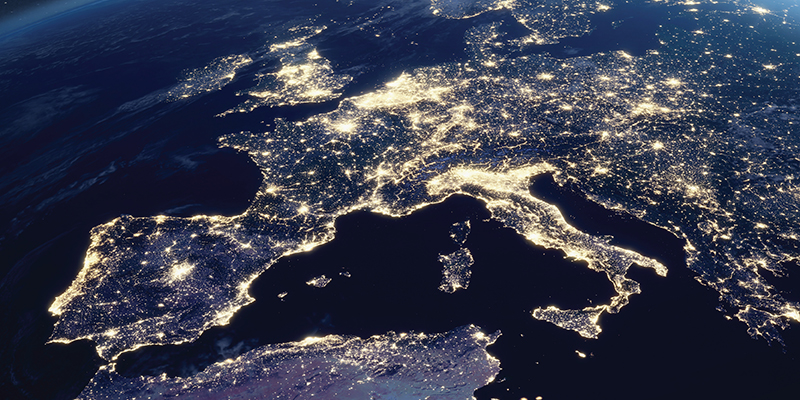 AWS European Sovereign Cloud
We've announced plans to launch the AWS European Sovereign Cloud, a new, independent cloud for Europe, designed to help public sector organizations and customers in highly regulated industries meet their evolving sovereignty needs. We're designing the AWS European Sovereign Cloud to be separate and independent from our existing AWS Regions, with infrastructure located wholly within the European Union.
AWS Dedicated Local Zones
We recently introduced AWS Dedicated Local Zones, a type of infrastructure that is fully managed by AWS, built for exclusive use by a customer or community, and placed in a customer-specified location or data center to help comply with regulatory requirements. Dedicated Local Zones can be operated by local AWS personnel and offer the same benefits of AWS Local Zones, such as elasticity, scalability, and pay-as-you-go pricing, with added security and governance features.

Data Protection at AWS
Data Protection at AWS
Earning customers trust is the foundation of our business at AWS and we know you trust us to protect your most critical and sensitive assets: your data. We work closely with you to understand your data protection needs and offer the comprehensive set of services, tooling, and resources to help protect your data.

Organisations using AWS can comply with European regulations
With AWS, you can improve your ability to meet core security and European data privacy compliance requirements, such as handling data subject requests, managing personal data breach notifications, performing data protection impact assessments, and setting technical and organisational measures with respect to the processing of your data. We also provide guidance to assist you in maintaining compliance, plus we offer a large network of AWS partners who can help manage your compliance for you. We support industry initiatives such as GAIA-X to define standards for the next generation of data infrastructure. We supported GAIA-X from the start and contributed to technical working groups during its' formation.
We support the Cloud Infrastructure Services Providers in Europe (CISPE) Code of Conduct. Over 100 AWS services are certified as compliant with the CISPE Code of Conduct. We help you meet European laws and standards and achieve the highest levels of security, privacy, and resilience.
Discover how BMW manages data from 20 million connected vehicles & complies with global data protection regulations, using AWS.

Managing and securing data can pose challenges, but Northius used AWS to standardize its data for better visibility across departments while comfortably meeting GDPR requirements.

The Mill Adventure Delivers Secure, Compliant, and Personalized iGaming Solutions Using AWS.

Investing in Europe and unlocking its digital potential
We work with our European customers to securely bring their most sensitive and regulated data to the cloud. In the EU, hundreds of thousands of organisations of all sizes and across all industries are using AWS – from start-ups to small and medium-sized businesses, to the largest enterprises, telecommunication companies, public sector organisations, educational institutions, and government agencies.

We drive economic development through investing in infrastructure, jobs, and skills in communities and countries across Europe.

We made a commitment to achieving net zero carbon by 2040 and are on a path to powering our operations with 100% renewable energy by 2025. We support the EU's Green Deal and help our customers achieve their own sustainability targets. European businesses can reduce energy use by nearly 80% when they run their applications on the AWS Cloud instead of operating their own data centres.