Effectively operate increasingly technologically advanced and complex venues, while enabling the ever-evolving technology, sustainability, and convenience expectations of today's fans.

New ebook: Transforming the business of sports

Download the ebook to learn how AWS is revolutionizing the business of sports with immersive, predictive, data-driven technology.

Competing against at-home conveniences like HDTV and VR experiences, sports organizations and stadium/arena owners and operators need to leverage advanced technologies to reduce friction points and enhance the gameday experience for fans and operators.
Venue managers and administrators are innovating their business with AWS, driving increased operational efficiency, developing sustainable arenas, and ultimately providing a more captivating fan experience. Such innovations are based on AWS machine learning, data lakes, serverless technologies, and low-latency edge services. By providing frictionless experiences with AWS technologies like Just Walk Out, venues such as Boston's TD Garden can make it easy for fans to shop in the stadium and for venues to increase their revenues. Companies such as Oak View Group are raising the bar for sustainable venue operations through AWS technologies.
Benefits
Provide frictionless experiences
Reduce fan frustrations of live events with technologies like Just Walk Out and Amazon One at retail sites that let fans check out and get back to the action fast, while delivering hyper-personalized fan experiences.
Reach sustainability goals
AWS offers the broadest and deepest set of capabilities in artificial intelligence (AI), machine learning (ML), Internet of Things (IoT), data analytics, and computing to reach your organization's sustainability goals.
Drive operational efficiencies
Manage venues as a single-pane-of-glass by consolidating and aggregating data from the multiple venue systems into a common data lake, providing management apps and dashboards, and enabling digital twins of the venue for near-real-time operations.
Customer stories
We work with the world's leading sports organizations—who expect more from their technology partners—and know that great smart venue experiences speak louder than words. Learn more about the exciting ways sports organizations are leading their customer journeys with AWS.
TD Garden Market stores, powered by Amazon's Just Walk Out Technology
Discover how TD Garden, home of the Boston Bruins, uses Amazon's Just Walk Out technology in its Market stores. This technology allows fans to shop and pay without stopping to check out, avoiding bottlenecks in the store.
Ticketek reduces POS deployment to minutes using Amazon AppStream 2.0
Discover why Ticketek decided to adopt Amazon AppStream 2.0 and how it experienced a significant increase in costs savings.

Changing the game at Climate Pledge Arena
Learn how the Seattle Kraken is revolutionizing the fan experience with Amazon's Just Walk Out technology and Amazon One.


Oak View launching GOAL sustainability platform
Oak View Group is launching GOAL (Green Operations and Advanced Leadership), a membership platform on AWS that will help venues operate in more environmentally friendly ways.

Reinvent the stadium experience
With AWS, sports organizations leverage technology to enhance the customer experience.

Select related AWS services
Create, maintain, and secure APIs at any scale
Object storage built to retrieve any amount of data from anywhere
What businesses can learn from sports leagues
How to create emotional connections and build loyalty with your customers

Innovate with key industry partners
Discover offerings from an expansive network of industry-leading AWS Partners specializing in smart venues.

Carrier is a world leader in high-technology heating, air-conditioning and refrigeration solutions.

KORE Software is the global leader in sports and entertainment business management solutions.

Resources
See related presentations, articles, customer success stories, blogs, and more.

Blog
Carrier improves occupant health with Abound, a healthy building solution
Abound is currently being piloted across the U.S. with customers in the commercial building, K-12 education, entertainment, and sports industries, including at Truist Park, home to the Atlanta Braves.

Press article
Mariners thrilled with benefits of new Just Walk Out store at ballpark
Because the Just Walk Out store eliminated lines in its neighborhood of T-Mobile Park, freed-up concourse space now presents room for a different type of concepts.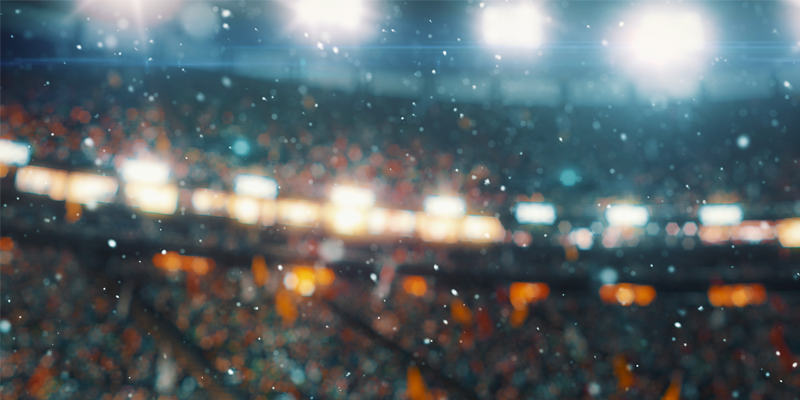 Press article
In Russell Wilson's return to Seattle, Amazon's Just Walk Out tech gets the cheers at new stadium store
Lumen Field became the third professional sports venue in Seattle to feature Amazon's cashierless Just Walk Out technology in a food and beverage store.

Get started
The world's leading sports organizations are already using AWS. Contact our experts to start your own journey to the AWS Cloud.