AWS is How: Carrier improves occupant health with Abound, a healthy building solution
Earlier this year, Carrier Global Corporation, a leading global provider of healthy, safe, and sustainable building and cold chain solutions, launched Abound by Carrier. This launch is part of Carrier's growing investment in digital solutions designed to give people confidence in the health and safety of their indoor environments. Abound is a cloud-native, open technology platform that aggregates data from different systems and sensors and provides building owners, operators, and occupants transparency into contextually relevant insights about air quality, thermal comfort, and other performance data. In this blog post, learn how Carrier built on AWS, combining AWS IoT and analytics services, to quickly deliver an innovative healthy building solution and value to customers.
The Abound platform connects directly to existing building systems and sensors with no need for upgrades, retrofitting, or replacements. What's more, unlike other building management platforms, Abound is designed to easily work with all systems, regardless of manufacturer, to unlock and unite siloed data to provide more powerful, actionable insights. The platform can be installed and scaled quickly, and showcases data on a single pane of glass and via remote readings.
The Abound platform works by connecting building systems and sensors to AWS IoT Core, which streams data into the Carrier IoT Action Engine. This uses AWS IoT rule actions, Amazon Kinesis, and AWS Lambda functions to process data into the appropriate Abound platform service (e.g., command, alarm, asset snapshot, asset history). From there, end users such as building owners, operators, and occupants can access the insights they need through a smart, simple interface. Or, via Abound's application programming interface (API), users can also access insights through responsive display generators for in-building digital displays, mobile applications, or existing digital experiences. With access to insights, like indoor air quality, they can enjoy peace of mind or take action to improve it.
"The launch of Abound underscores Carrier's leadership in digital innovation and ability to move quickly to exceed our customers' needs. The platform came together in a fraction of a year and I couldn't be prouder of the team," said Bobby George, Carrier's Senior Vice President & Chief Digital Officer. "Abound's platform architecture was designed around open standards and modern cloud native technologies and users can quickly adapt it to a wide range of integration, connectivity, and scaling needs. The platform is comprehensive and delivers value to our customers through the complete integration of software, hardware, and digital analytics."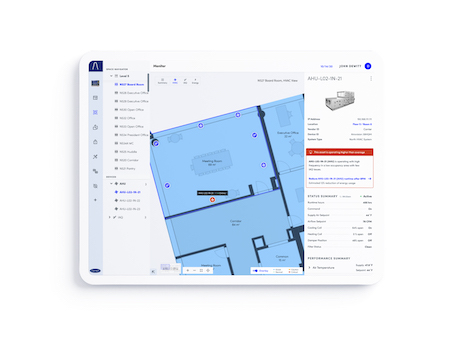 The Abound digital platform will also enable building operators to benchmark building performance related to air quality, ventilation, and humidity against thresholds identified for certain air features within the WELL Building Standard (WELL) from the International WELL Building Institute, a global authority on healthy buildings. Building owners will have the ability to display real-time information and messaging about a building's health through the Abound API, which can be used to create digital wallboards and support mobile experiences.
Abound is currently being piloted across the U.S. with customers in the commercial building, K-12 education, entertainment, and sports industries, including at Truist Park, home to the Atlanta Braves. It is also operating at Carrier's world headquarters and building technology showcase, the Center for Intelligent Buildings, in Palm Beach Gardens, Florida.
Abound is the latest solution from Carrier that is built using AWS services. In February 2020, Carrier selected AWS as its preferred cloud provider to drive digital transformation. Then, in October 2020, Carrier announced the co-development of Carrier's new Lynx digital platform—a suite of tools that provide Carrier customers around the world enhanced visibility, increased connectivity, and actionable intelligence across their cold chain operations to improve outcomes for temperature-sensitive cargo, including food, medicine, and vaccines. The Lynx platform, too, uses AWS IoT, analytics, and machines learning services to extend Carrier's existing digital offerings for managing the temperature-controlled transport and storage of perishables. Lynx was recently recognized among Fast Company's 2021 World Changing Ideas.
Learn more about Abound by Carrier and Carrier's Lynx digital platform.