Analytics, Insights, and Optimization
Turn data into action to understand customer sentiment, assess agent performance, and optimize your workforce
Learn from every customer interaction and ensure that the right agents are available at the right time
Contact center conversations contain a wealth of customer insights. With conversational analytics, you can understand customer sentiment and uncover trends that can help you address customer issues in real time.
Being able to define and automatically assess performance criteria (such as script adherence, sensitive data collection, and customer greetings) reduces the need for managers to do manual reviews while more easily identifying coaching needs for your agents.
Machine learning (ML)-powered workforce forecasting, capacity planning, and scheduling can optimize your contact center by anticipating contact volume to accurately convert forecasts into agent staffing needs, and staying ahead of unforeseen events.
With Amazon Connect analytics, insights, and optimization capabilities, you can turn your data into action.

Benefits
Make smarter decisions with your data
With real-time and historical analytics, you can understand granular-level metrics to make data-driven decisions and take action to hit business targets.


Improve agent performance
Automate agent performance scoring and evaluations with conversational analytics to more easily identify coaching needs and help agents perform their best.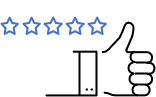 Increase customer satisfaction
Uncover trends and get alerted to issues during live customer engagements so that you can quickly act to provide positive customer outcomes.


Save time and reduce cost
Predict contact volumes with high accuracy, determine ideal staffing levels, and optimize agent schedules to achieve service targets and reduce operational overhead.


Continuously improve with data-driven decisions
Amazon Connect offers powerful analytics, insights, and optimization capabilities to help you meet your operational and business goals.

Conversational analytics and performance evaluations
Click to enlarge
Forecasting, capacity planning, and scheduling
Click to enlarge
Amazon Connect features
Amazon Connect Contact Lens
Search call and chat transcripts, analyze sentiment, identify issues, and monitor agent performance with conversational analytics and quality management capabilities powered by machine learning.



Real-time and historical analytics
Make data-driven decisions with powerful analytics tools, including a visual dashboard with customizable real-time and historical metrics.


Customers stories

"We've started using Amazon Connect forecasting, capacity planning, and scheduling to administer scheduling plans and coordinate real-time adjustments with multiple internal and external partners. Our business users without workforce management experience find the capabilities easy to use. AWS has been proactive in providing optimization recommendations and responsive to our development requests. Being able to work with AWS to test and build these forecasting, capacity planning, and scheduling capabilities that meet our business needs, rather than force fit a solution, has been an important part of our decision to move forward with additional AWS services."

Anjanette DeCoudreaux, Director of Participant Services, Ameriflex


"At Accolade, we are passionate about our customer experience, especially because we help our customers with life's most important questions - concerns about their healthcare. With the AWS launch of Contact Lens for Amazon Connect, we've transformed our contact center experience. Since Contact Lens works seamlessly with Amazon Connect it has allowed us to accomplish what other transcription and speech analytics vendors have struggled to achieve. With Contact Lens for Amazon Connect, we've processed thousands of calls and have been able to easily uncover emerging trends to provide our agents with the right guidance, improving our customer experience. Enabling Contact Lens for Amazon Connect took only minutes, saving us months of development time it would have taken to build the same powerful AI tools."

Stephen Murphy, Senior Director of Cloud Engineering, Accolade

Discover how to turn your data into action
Contact our AWS experts to explore how Amazon Connect analytics, insights, and optimization capabilities can help unlock opportunities for continuous improvement in your contact center operations and overall customer experience.