The Cloud Innovation Centers (CIC) Program provides an opportunity for nonprofits, education institutions, and government agencies to collaborate with other public sector organizations on their most pressing challenges, test new ideas with Amazon's innovation process, and access the technology expertise of Amazon Web Services (AWS).

Any nonprofit, education, or government organization can apply to work on a challenge with our global network of public sector-led innovation centers. Organizations bring their expertise and work through a challenge engagement, uncover new ways to solve complex problems, and publish their lessons learned to further drive public sector innovation.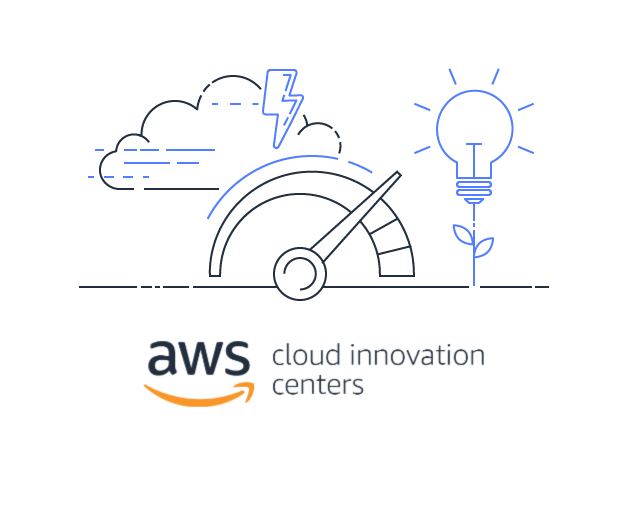 Students learn by doing at the Cal Poly DxHub
The Cloud Innovation Centers allow both students and staff at public sector organizations to learn as they collaborate and work through challenges. Teams access leading innovation processes and have the opportunity to apply cloud technology to real-world problems in the public sector. Learn more about how students at Cal Poly benefit from experiential learning at the Digital Transformation Hub.
Identify challenges
Start with a problem in your community and work with a CIC to find new approaches to solving challenges.

Innovate
Give your team the freedom to experiment with innovation techniques that have been built into Amazon's DNA.

Solve complex problems
Bring people with diverse experiences together and work towards new solutions for complex challenges.
Scale
Publish results open source to help people across the world learn from CIC collaborations.
Work with leading public sector organizations
Learn more about each public sector innovation program and how your organization can apply to work on a challenge.

Collaborate with students and the community
Swinburne is collaborating with students and the community to drive innovation at the Data for Social Good CIC.

Featured challenges
Learn how a California city is working to ensure e-scooters stay off sidewalks for pedestrian safety.
See how a water control board worked to innovate and find more ways to engage the public.

Explore how technology can be leveraged to improve compliance in digital evidence collection.
How can technology support innovations in farming? Learn about a new chatbot prototype.
Read about a solution for cattle ranchers to improve tracking cow location and temperature.

Learn about the prototype for researchers to assess the impact potential of offshore wind energy to the deep-water ocean ecosystem.