7 Easy Steps to Building Your Idea Around Amazon Web Services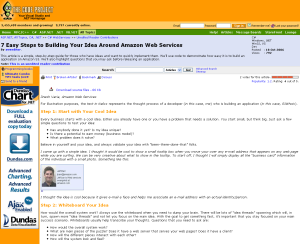 Amazon Web Services Evangelist Jinesh Varia just posted a really nice article on codeproject.com. The article documents Jin's implementation of an idea that he and I discussed shortly after he joined my team earlier this year.
Building upon the concept pioneered by the seemingly defunct Usenix Faces project the application in this article shows how to use Amazon S3 to store individual face graphics and to use a Greasemonkey script to show popup faces on unmodified web pages.
For you youngsters out there, the Usenix Faces project dates back to the late 1980's, when digital cameras of any type were expensive and rare beasts. At each Usenix conference there would be a booth with a camera. The operators would take pictures on request and then upload them to a central FTP server, indexed by email address. Applications (typically email clients and Usenet news readers) of that era would download faces and show them next to email messages and news postings.
— Jeff;
PS – If you look at my picture and think "Wow, Jeff looks like he left his vacation in Mexico on a Sunday evening, flew all night, got to Seattle at 2 AM and then showed up at the Amazon headquarters in time for an 8:30 AM orientation," you'd be right on target.
Modified 11/03/2020 – In an effort to ensure a great experience, expired links in this post have been updated or removed from the original post.