Amazon S3 – Bigger and Busier Than Ever
The number of objects stored in Amazon S3 continues to grow: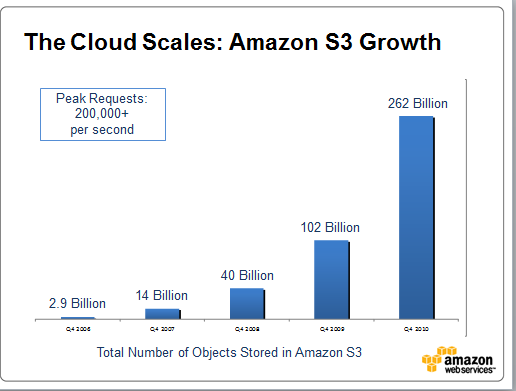 Here are the stats, measured at the end of the fourth quarter of each year:
2006 – 2.9 billion objects
2007 – 14 billion objects
2008 – 40 billion objects
2009 – 102 billion objects
2010 – 262 billion objects
The peak request rate for S3 is now in excess of 200,000 requests per second.
If you want to work on game-changing, world-scale services like this, you should think about applying for one of the open positions on the S3 team.
— Jeff;
Note: The original graph included an extraneous (and somewhat confusing) data point for Q3 of 2010. I have updated the graph for clarity.
Modified 08/17/2020 – In an effort to ensure a great experience, expired links in this post have been updated or removed from the original post.