Amazon Web Services for Backup and Disaster Recovery
Since the launch of the Amazon Web Services platform in 2006, many companies have decided to offer solutions on top of it. We collect a list of these solution providers, being them System Integrators (SI) or Independent Software Vendors (ISV), on our main AWS website. These Solution Providers offer a vast range of solution for many different use cases.
Backup and Disaster Recovery scenarios are great to highlight the advantages of the Cloud versus traditional solutions: if you need Backup and Disaster Recovery for your business, you can avoid the expensive burden of relying on physical tapes and tape management in favor of cloud-based storage.
Data written on tapes typically goes in a vault somewhere and remains useless until the tape is transported back in case of a disaster. Cost of over- or under-provisioning in this case is very high.
On the Cloud, however, you can get rid of tapes and use Amazon S3, a highly durable storage solution: it provides a simple web services interface that can be used to store and retrieve any amount of data, at any time, from anywhere on the web. All the complexities of scalability, reliability, durability, performance and cost-effectiveness are hidden behind a very simple programming interface.
Amazon S3 is intentionally built with a minimal feature set, and if you have very specific needs, that's where our Solution Providers can help.
For example, If you want to use Amazon S3 to backup Windows servers, desktops and live applications such as Microsoft Exchange and SQL Server to Amazons highly dependable online storage, you might consider using a solution from one of our Solution Providers, Zmanda.
Their Zmanda Cloud Backup automates the steps needed to backup your data to the cloud, through a GUI based backup configuration and management.
They just announced their third generation Cloud Backup, which fully supports the AWS Asia Pacific Region (check out the pricing list).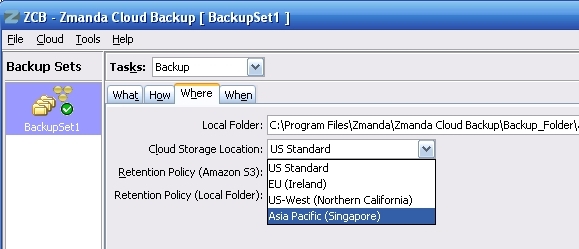 I've seen many customer interested in Backup solutions here in Asia Pacific, and I'm sure that they'll be interested in the solution offered by Zmanda.
But what happens when large amounts of data need to be transferred, and the internet simply isn't fast enough to do it in a reasonable amount of time?
AWS Import/Export accelerates moving large amounts of data into and out of AWS, using portable storage devices for transport. AWS transfers your data directly onto and off of storage devices using Amazons high-speed internal network and bypassing the Internet.
For significant data sets, AWS Import/Export is often faster than Internet transfer and more cost effective than upgrading your connectivity.
If you are using Amazon S3 and/or AWS Import/Export for Backup or Disaster Recovery, let us know your story and tell us what do you like the most about these services.
You might also be interested in reading Best Practices for Using Amazon S3.
– Simone Brunozzi (@simon)