Animoto – Scaling Through Viral Growth
Animoto is a very neat Amazon-powered application. Built on top of Amazon EC2, S3, and SQS, the site allows you to upload a series of images. It then generates a unique, attractive, and entertaining music video using your own music or something selected from the royalty-free library on the site. Last week I spoke to a group of Computer Science and IT students at Utah Valley State College. Before leaving Seattle I spent some time downloading images from their athletics site. I then combined this with some Southern Surf Syndicate music from The Penetrators and ended up with this really nice video:
There's a lot going on in the background. After the images and the music have been uploaded, proprietary algorithms analyze them and then render the final video. This can take an appreciable amount of time and requires a considerable amount of computing power.
Animoto co-founder and CEO Brad Jefferson stopped by Amazon HQ for a quick visit on Thursday. Earlier in the week we had seen their EC2 usage grow substantially and I was interested in learning more. Brad explained that they had introduced the Animoto Videos Facebook application about a month earlier and that it had done pretty well, with about 25,000 users signing up over the course of the month, with steady, linear growth.
The reaction from the Facebook community was positive, so the folks at Animoto decided to step it up a notch. They noticed that a significant portion of users who installed the app never made their first Animoto video yet the application (as they themselves admit) relies heavily on the 'wow' factor of seeing your first Animoto video and wanting to share it with your friends. On Monday the team made a subtle but important change to their application: they auto-created a user's first Animoto video.
That did the trick!
They had 25,000 members on Monday, 50,000 on Tuesday, and 250,000 on Thursday. Their EC2 usage grew as well. For the last month or so they had been using between 50 and 100 instances. On Tuesday their usage peaked at around 400, Wednesday it was 900, and then 3400 instances as of Friday morning. Here's a chart: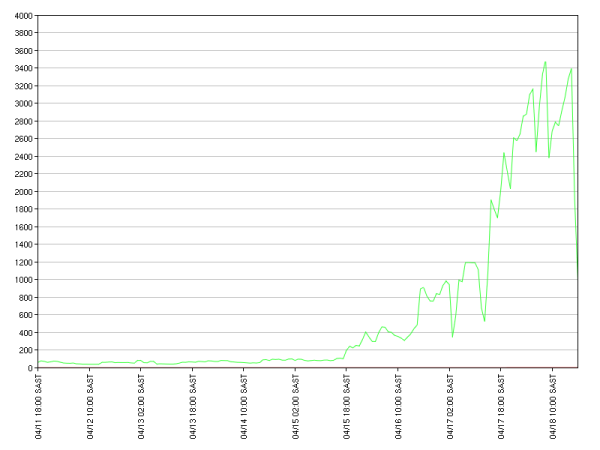 We are really happy to see Animoto succeed and to be able to help them to scale up their user base and their application so quickly. I'm fairly certain that it would be difficult for them to get their hands on nearly 3500 compute nodes so quickly in any other way.
— Jeff;