Announcing AWS $NAME
As I've blogged about in the past, we love to listen to our customers, and what we hear from them has a direct and very visible influence on our development process. I can literally watch as the information flows from customer meetings to trip reports to press releases (we write those first, before we build the product) and ultimately into products. I've learned that real data from real customers is a very strong persuasive tool.
Just about a year ago, our customers started to ask us for a new product with increased scalability and durability, at the lowest possible price tag. We took a lot of notes and finally figured out what the heck they wanted. We put a crack team on it and they've been working on realizing the vision for over 10 months.
I'm happy to announce that $NAME is now available in a limited beta test form (sign up here). This service is really cool and I think you are really going to like it.
Here are the most important features:
Scalable – $NAME can go from 0 to 10100 and back again within seconds. You can do this manually or with the aid of some CloudWatch Alarms.
Durable – $NAME will survive for at least a day, no matter what.
Global – $NAME is available in all five AWS Regions now.
Cost-Efective – This service is priced far lower than competitive services. It is also made available to you on a pay-as-you-go basis, so you never consume more $NAME than you actually need.
Compatible – $NAME works with your existing tools and applications; no modifications are required.
Secure – $NAME is fully certified and compliant.
As I've noted before, $NAME is designed to work within your existing environment. Here's a block diagram: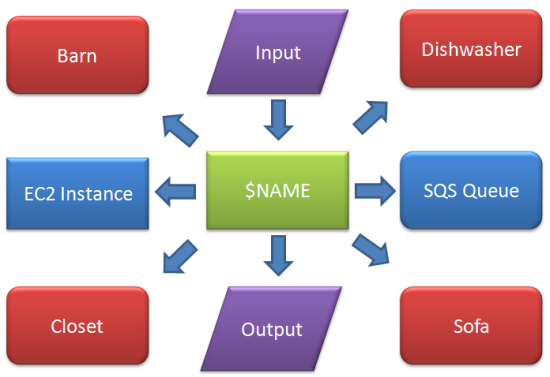 Since this is a web service, there's a complete API, with Create, Describe, and Delete calls. We expect a number of third-party tools and toolkits to announce support for $NAME later today.
Update: $NAME is now supported by Shlomo Swidler and Ylastic. Support from CloudBerry Lab is expected to be ready today. Boto includes full support (read their blog post to learn more).
— Jeff;