Empowering the Startup Ecosystem in Singapore With AWS
My colleague Joe Ziegler wrote the report below to recap and summarize the recent Cloud Kata event that we held in conjunction with the AWS Summit in Singapore.
— Jeff;
---
Summary
AWS held the first Cloud Kata for Startups event in Singapore at the Marina Bay Sands on July 17th, bringing together over 800 entrepreneurs, developers, venture capitalists, angel investors and multinationals enterprises. The agenda for the day was structured around the startup lifecycle: from idea, to minimum viable product, then scale and finally profitability.

Agenda
The day kicked off with an intro from Pieter Kemps, VC Business Development Manager, highlighting successful startups such as Airbnb, Flipboard and Spotfiy which leverage the benefits of Amazon Web Services. He then dived into how AWS changed the venture capital canvas leading to the explosion in the number of Startups and the emerging of micro VCs. Dr. Werner Vogels, CTO Amazon.com, delivered the keynote, 21st Century Application Architectures and built upon the basic tenant, Thou shalt use new concepts to build new applications encouraging participants to take advantage of cloud based technologies.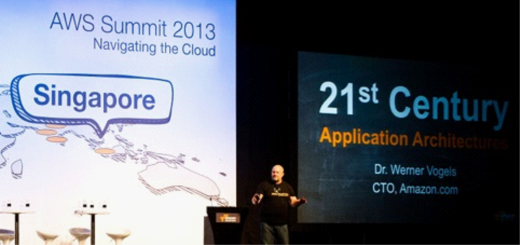 The event also had a panel that brought together key players in South East Asia to discuss the startup ecosystem; structured in an experimental way with four tables, one for startups, one for VCs, one for startup community, and one for AWS. Participants were Khailee Ng, Venture Partner, 500 Startups; Mohan Belani, Co-Founder and CEO, e27; Lim Kuo-Yi, CEO, Infocomm Investments; Danny Castonguay, CTO, Kalibrr; Thijs Jacobs, CEO, Pie; Edgar Hardless, CEO, SingTel Innov8; and Paul Santos, Co-Founder and Managing Partner, Wavemaker Labs.
Notable quotes from speakers on the panel:
It speaks very much of AWS commitment to listen to the small guys and to help them grow their business. – Danny Castonguay, the CTO of Manila based YCombinator startup Kalibrr.
We have grown our team on the ground to help our customers in the key ASEAN markets. We now have people fully focused on serving our customers in Singapore, Malaysia and the Philippines and we are continuing to leverage this approach to support our customer in other ASEAN countries. – Amazons Pieter Kemps discussing the initiative in Southeast Asia.
Not many companies the size of Amazon send their CTO down on the ground to connect with customers, especially in this part of the world, and it means a lot to people in the ecosystem. – Khailee Ng, Venture Partner, 500 Startups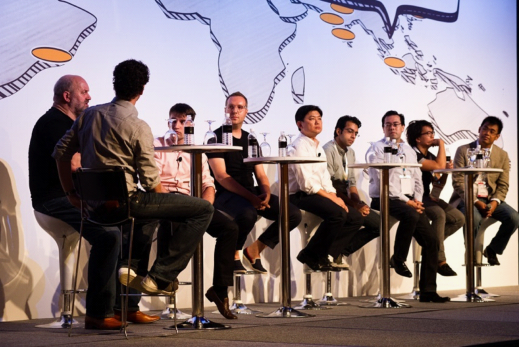 After the panel, there were three sessions that zoomed into the progressive stages of the journey of a startup: Getting to MVP, Getting to Scale, Getting to Profitability. Each session included a customer presenter who talked about AWS within their own startup and a live demo utilizing AWS technology, including yours truly coding in Python on stage showing how easy it is to deploy enterprise grade, global architectures on AWS Elastic Beanstalk.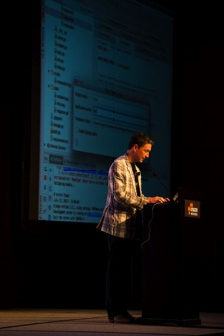 Presenters for the session included Tyam Yang, CTO, Tyler Projects; Calvin Kizana, CEO, PicMix; Vinoth Gopinathan, Co-founder, Semantics3; the author (AWS Startup Business Development Manager for APAC); Dhruv Parpia, AWS Solutions Architect and Kingsley Wood, AWS Business Development.
Along with presentations and demos throughout the day, the Startup Hub community board was available to share information about funding and people.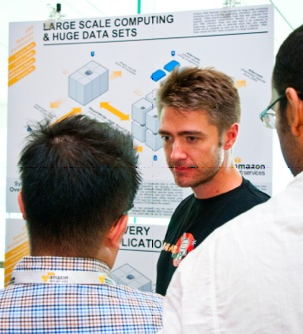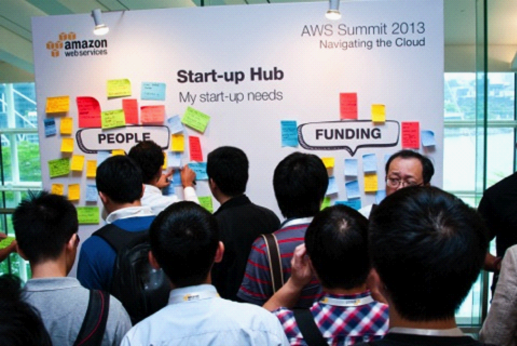 AWS Solutions Architects were on hand to provide architectural and technical advice to developers during the event. Common patterns for solutions relevant to startups were available to help jump start technical stacks giving participants the ability to focus on building their applications, not building infrastructure.
Coding Challenge
One of the highlights of the event was the AWS Coding Challenge: 30 hackers were competing for $1000 in AWS credits by building an MVP photo sharing application and launching it in 30 minutes. Coders were rated by the number of features they could implement during the challenge leveraging the AWS stack and 3rd party libraries. Programming languages ranged from .Net, Ruby, PHP, Java and Python. The winner was Arzumy MD, the CTO of Says.com of Malaysia. Looking back at the event, Arzumy commented It was an eye opener to learn directly from Amazon. Everyone from the architects up to the CTO was genuinely helpful and really care about growing startups.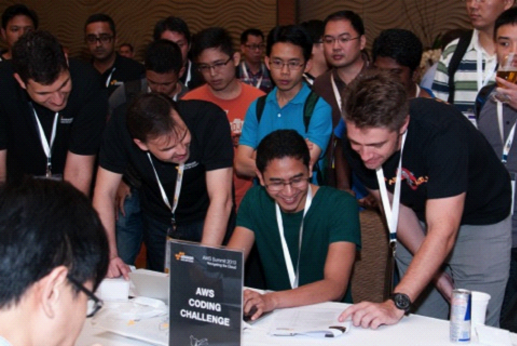 What's Next?
Based on the positive response from the event, AWS will take this content on tour in Asia with the next stop in Hong Kong on August the 8th.
— Joe Ziegler, Startup Business Development Manager
Modified 10/26/2020 – In an effort to ensure a great experience, expired links in this post have been updated or removed from the original post.