AWS Planning and Implementation Guide for Microsoft Exchange Server
Tom Rizzo, A General Manager on the Amazon EC2 team, sent along today's guest post.
— Jinesh;
---
Over the last few months we have released some powerful Windows enhancements to AWS including AWS Management Pack for Microsoft System Center and Guidance for Microsoft SQL Server AlwaysOn Availability Groups.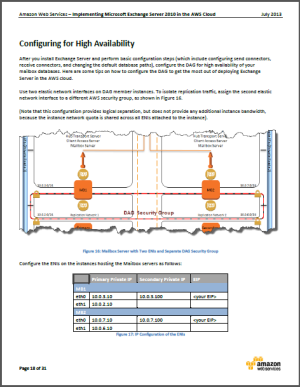 Building on the popularity of our SQL Server guidance, we are releasing the Microsoft Exchange Server 2010 in the AWS Cloud: Planning and Implementation guide. Customers continually ask us how they can move their email to the cloud, and the main product they ask about is Microsoft Exchange Server. In fact, a number of customers, including Choice Logistics and Banro, have already moved their Exchange deployments to AWS from on-premises locations.
The new planning and implementation guide discusses architectural considerations and configuration steps relevant when you launch the services, such as Amazon Elastic Compute Cloud (Amazon EC2) and Amazon Virtual Private Cloud (Amazon VPC), that you need to run a highly available and site-resilient Exchange architecture. It discusses the tools that Exchange administrators and deployment engineers are already familiar with and walksthough different stages of planning process and how to use the tools in the context of AWS environment.
Included with the guide are sample AWS CloudFormation templates for a small business scenario. These samples templates are easy to customize and designed to help you get started quickly so you can deploy the necessary infrastructure with the right configuration.
Download the Implementation Guide and get started today!
— Tom Rizzo
Modified 10/28/2020 – In an effort to ensure a great experience, expired links in this post have been updated or removed from the original post.