AWS Summer Startups: M-Dot

Over the summer months, we'd like to share a few stories from startups around the world: what are they working on and how they are using the cloud to get things done. Today, we're profiling the last year's winner of the AWS Start-up Challenge – M-Dot Network from Erie, PA!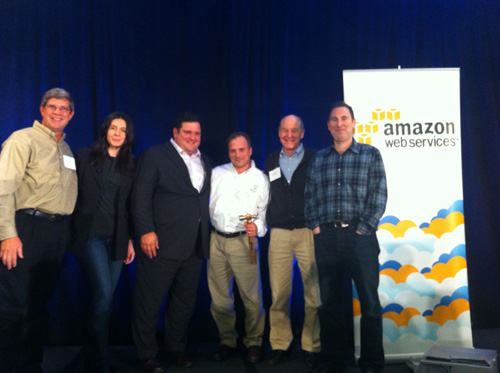 (M-Dot team, victorious at the AWS Start-up Challenge 2010)
We often see comments that the start-ups selected as part of the AWS Start-up Challenge have a lot of funding already, so wed like to put that rumor to rest please meet M-Dot Network, our 2010 AWS Start-up Challenge grand prize winner!
Bootstrapped and Building a High-Speed Transaction Network that Connected Point-of-Sale Technology to the AWS Cloud
M-Dot was not your typical start-up: they werent based out of Silicon Valley, they were completely bootstrapped when they applied to our contest, and the team was a seasoned group of people who had worked in the retail industry, IT, and dealt with point-of-sales issues throughout their career. And yet, their use of AWS got our attention right away: the M-Dot AWS Start-up Challenge entry described how their team created a point-of-sales (POS) integration between networks of retailers and the issuers of digital incentives such as coupons and gift cards, all powered by AWS. In addition, their stress-tested platform is certified to process transactions from over 200K stores concurrently with sub-second response time, handling all forms of ID, including phone numbers, RFID, and biometrics.
We were happy to hear that in April 2011, M-Dot was acquired by one of their strategic business partners, Inmar. Recently, I caught up with the former M-Dot CTO, Mike Kavis, now Vice President Digital Promotions Systems at Inmar, to congratulate him on the acquisition and ask him a few questions and to share some of their experiences with other startups:
Growing on AWS & Being Acquired
Our business has taken off this year. We ended last year with our first retailer launched in October. We now have five retailers in production, have over 700 stores signed up, and have a few more retailers who are lab testing our services. We were acquired by Inmar, the industry leader in coupon settlement and reverse logistics. The beauty of leveraging AWS is that as we add retailers to our network the platform adds compute resources as needed. Unlike the old days where infrastructure had to be purchased in advance and sat idle until consumed, we now add infrastructure (expenses) as our transaction count increases (revenues). Pay as you go!
Growing and Solving the Data Management Problem with AWS
Winning the startup challenge generated a lot of respect and credibility from both our perspective clients and from investors. Our company was from Erie, PA which is not exactly the startup capital of the world. Before the startup challenge, we had very little interest from VCs and were raising money from angels mostly in the Erie and Pittsburgh areas. The week after we won the competition, we raised over $1M in angel funds from both new and existing angels. We also had over 30 VCs, mostly from Silicon Valley, reach out to us. At the same time we were meeting with the VCs, Inmar reached out to us about a potential partnership or M&A relationship. In April, we were acquired by Inmar and our business is taking off.
Once we found out we were nominated as a finalist for the startup challenge, we were fairly confident that we would win. We felt our technology was a unique use case for cloud computing. Most cloud computing use cases focus on web based software or heavy data crunching activities. We felt the cloud really needed a story like ours: a high speed transaction network that connected Point-of-Sale technology to the cloud. It blew away the myths about performance, security, and compliance. Luckily the judges agreed with us.
Words of Wisdom for Cloudy Start-ups
Always remember that at the end of the day it all comes down to architecture. Sure it is easy to create an account and fire up a bunch of servers, but as I always say, "If you don't know where you are going, any road will get you there". I highly recommend that startups spend some time up front envisioning what success would look like and what the system requirements will be to support success. Not all of these requirements need to be in place day one, but the last thing you want is the success of your product to be the downfall of your business. Understand what is needed to scale. Expect that everything can fail and architect for it. Do quick proof of concepts/prototypes and test the different image sizes. And finally, have fun!

The AWS Startup Challenge
The AWS Start-up Challenge is now open for entries! You can learn more can follow @AWSStartups on Twitter for updates.
Modified 01/05/2021 – In an effort to ensure a great experience, expired links in this post have been updated or removed from the original post.