Cloud Application Development on AWS – UW Extension Course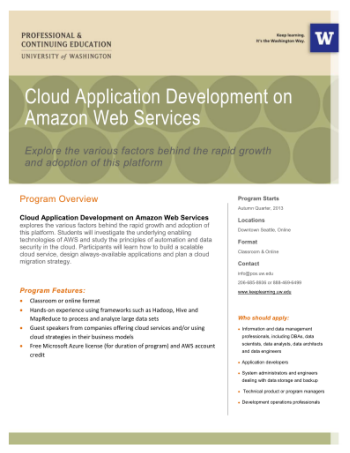 The University of Washington Department of Professional and Continuing Education is offering a three-quarter Cloud Application Development on AWS certificate program. If you are in the Seattle area you can take this course in a classroom. If not, you can take it online.
I have been a member of the advisory group that developed this series of three courses and I am very happy with the curriculum that we were able to put together.
Course 1 covers cloud architecture, starting with "What is Cloud Computing" and progressing through an overview of AWS and the major services (including a hands-on component), architectural principles, security & compliance, reference architectures, and future trends.
Course 2 picks up where course 1 left off, with a substantial amount of hands-on application development using EC2, RDS, DynamoDB, SQS, CloudFront, ElastiCache and more.
Course 3 is all about operations, with a focus on automation, availability, and the global nature of the cloud.
We designed the curriculum to include plenty of opportunities for guest lecturers to share their insights on particular topics. Time permitting, I am sure that I will be speaking to a class or two.
— Jeff;