EC2 Reserved Instances – Now In Europe, Too!
I wrote about the exciting and economical EC2 Reserved Instances just a few weeks ago. The response to that announcement has been really good, with positive feedback from our customers who are enjoying this new option.
Today I am happy to let you know that you can now reserve EC2 instances in our European (EU) region. The one-time fee is the same as in the US and, as is the case for the On-Demand instances in Europe, the per-hour cost is slightly higher than it is in the US. You can use the same API and command-line tools; just remember to use the proper endpoint and you'll be all set.
I use an EC2 instance to host my personal blog and a number of other projects. I converted it to a Reserved Instance just last week and am already enjoying the savings. After setting up the EC2 API tools on my desktop Windows machine, I ran ec2-describe-reserved-instance-offerings to find an offering in the right availability zone, and ec2-purchase-reserved-instances-offering to make the purchase. Here's what my account looks like now: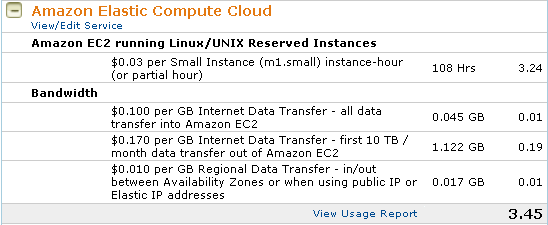 –Jeff;