Enomalism Virtual Management Dashboard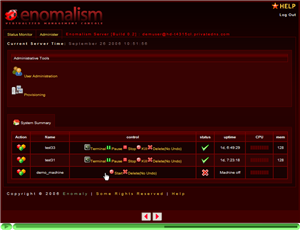 The Enomalism Virtual Management Dashboard provides an easy to use interface to provision and manage a series of physical and virtual servers through a single integrated interface.
Designed to work with Amazon EC2 and other virtualized environments, the Virtual Management Dashboard includes a dashboard, support for true elastic computing, dynamic, real-time virtual server management, disk management tools, user and resource management, physical and virtual server migration, an SSH client, and virtual appliance management to simplify the process of adding and removing software packages from the managed systems.
There's also an API for external control, and the entire package has been made available under an open source license.
Take a look at some screenshots, watch the system in action, or just download it and give it a try.
— Jeff;
Modified 1/29/2021 – In an effort to ensure a great experience, expired links in this post have been updated or removed from the original post.