Oracle Enters the AWS Cloud
We've been working with Oracle to bring a number of their products into the cloud. The first fruits of this work are now ready: cloud-compatible licensing, EC2 AMIs preloaded with a variety of Oracle products, support programs, backup to the cloud, and a cloud management portal.
As more and more enterprises take a look at the Amazon Web Services, they invariably ask about packaged software, particularly databases. With this announcement, AWS users now gain access to a commercial-grade, brand-name database, along with the necessary tools and middleware needed to build and host heavy duty enterprise applications in the Amazon cloud.
So, what's available?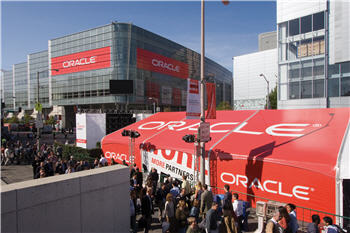 The Oracle Database 11g, Oracle Fusion Middleware, and Oracle Enterprise Manager can now be licensed to run in the cloud on Amazon EC2. Customers can even use their existing software licenses with no additional license fees. Read more about cloud licensing here.
I should say a few words about licensing here because this question comes up all the time. The variability and flexibility of cloud-based licensing has perplexed users and vendors for some time now. Now that a large software vendor has made a clear statement of direction here, we should see more and more cloud-compatible licenses before too long.
These products, along with Oracle Enterprise Linux, are available in prepackaged, ready to run form, encapsulated within a set of free Amazon EC2 AMIs. Using these AMIs, new instances can be launched and ready within minutes. Of course, Oracle's development tools — Oracle Application Express, Oracle JDeveloper, Oracle Enterprise Pack for Eclipse, and Oracle Workshop for WebLogic — can all be used to build applications for this new environment.
What does this mean? Instead of budgeting for and acquiring hardware, setting it up, installing an operating system and several layers of complex packages, you can simply launch one of these AMIs on EC2 and be up and running in minutes. This is definitely no-fuss, no-muss application development and deployment.
But wait, there's more…
Oracle Enterprise Linux on EC2 is fully supported by Oracle Unbreakable Support and Amazon Premium Support. Once again, another potential adoption barrier has been lowered. If you've got a problem, Oracle and Amazon are ready to help out.
There's also a secure backup solution for database servers running on EC2 or within the corporate network. The new Oracle Secure Backup Cloud Module allows customers to use Amazon S3 as a backup destination with virtually unlimited capacity, obviating the need to deal with local backup devices. The module encrypts backups and makes use of multiple connections to S3 to maximize throughput.
Need I even talk about how painful and expensive backup used to be? Buying expensive devices and media, keeping the media safe and secure offsite (yet still available if needed for a recovery), dealing with physical space issues, and 100 other things. Now, simply send your bits to Amazon S3 and forget about dealing with all of these other issues.
And if that's not enough, Oracle has also unveiled a new Cloud Management Portal. This is a free, web-based way to manage Oracle software running in the cloud.
These products will be on display at Oracle OpenWorld, which is taking place this week at the Moscone Center in San Francisco. If you are at the conference, please stop by the AWS booth to say hello and to learn more.
I'll be speaking at the Storage Developer Conference in Santa Clara tomorrow (September 23) and will talk about this offering as well. Once again, say hello.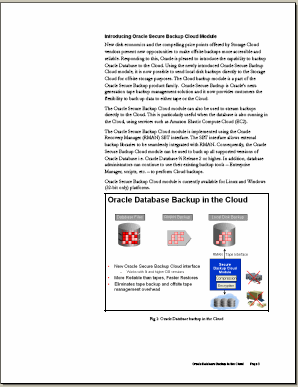 Here are some very useful white papers and other resources:
Oracle's Cloud Computing Center, chock full of links, demos, and information.
A data sheet, Oracle In The Cloud.
A white paper, Oracle Data Backup in the Cloud.
Oracle's Cloud Computing FAQ.
Dynamic demo showing how to launch the Oracle Database on EC2.
And here are the AMIs:
Oracle Database 10g Release 2 Express Edition – 32 Bit
Oracle Database 11g Release 1 Enterprise Edition – 32 Bit
Oracle Database 11g Release 1 Enterprise Edition – 64 Bit
Oracle Database 11g Release 1 Standard Edition/Standard Edition One – 32 Bit
— Jeff;
Modified 2/1/2021 – In an effort to ensure a great experience, expired links in this post have been updated or removed from the original post.