Relational Database Service – Increased Snapshot Retention Period
The automated backup feature allows our customers to back up and restore their Relational Database Service (RDS) DB Instances. You can simply choose a non-zero backup retention period from the AWS Management Console: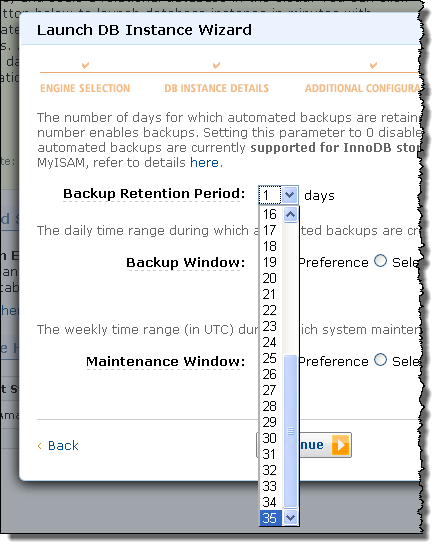 After fielding a number of customer requests, we have increased the maximum retention period from 8 days to 35 days. A number of our customers have asked for this new limit in order to retain at least one month's worth of backups for compliance purposes.
Based on feedback from customers, RDS recently made the automated backups of your DB Instances available for copy or restore. The snapshots are visible within the Console. You can create a new DB Instance from any of your snapshots by simply right-clicking and choosing the Restore From DB Snapshot command: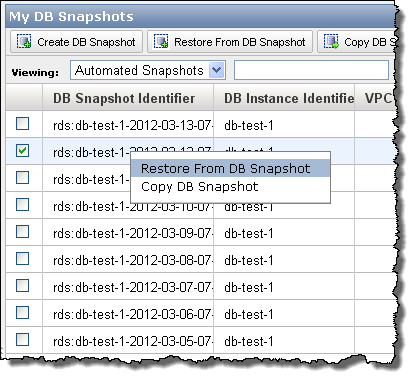 If you need to retain a particular automated backup snapshot for more than 35 days, you can copy it: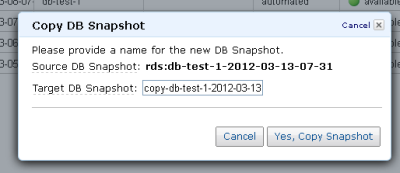 The copy will be stored as a Manual Snapshot and you can keep it around for as long as you'd like: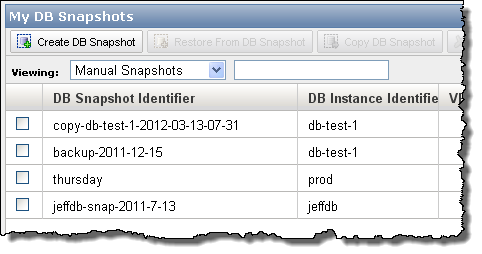 In other RDS news, we recently added support for MySQL 5.1.61 and MySQL 5.5.20.
We're always happy to respond to requests and suggestions from our customers. If you have a request for the RDS team, please feel free to leave a message in the Amazon RDS Forum.
— Jeff;
Modified 2/11/2021 – In an effort to ensure a great experience, expired links in this post have been updated or removed from the original post.