rPath Webinar – The Pragmatist's Guide to Cloud Computing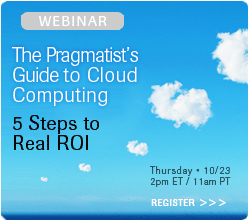 On Thursday, October 23rd, rPath will be hosting a cloud computing webinar at 11 AM PST.
Billy Marshall, founder and chief strategy officer of rPath will host. Guests will include Frank Gillette of Forrester Research, Jeff Schneider of MomentumSI, and I. We'll talk about how cloud computing is closing the gap between development and operations, and we'll show how organizations can capitalize on the promise of the cloud using a graduated and architecturally sound approach.
The webinar is free but advance registration is required. See you there!
— Jeff;