SimpleDB Developments
Amazon SimpleDB continues to expand, with new tools, tutorials, and success stories.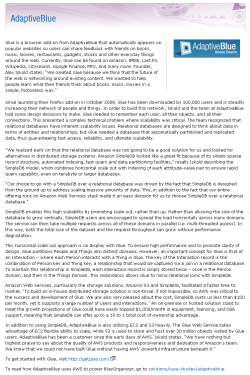 We just published a new case study on Adaptive Blue's new Glue product. Taking the form of a Firefox plug-in, Glue allows users to share feedback with friends on books, music, movies, restaurants, gadgets, stocks and other everyday things around the web.
In the case study, Adaptive Blue founder Alex Iskold recaps the line of reasoning which led him to use SimpleDB. Time to market was important, as was the ability to scale out to handle a growing user base, which now stands at around 100,000.
We've calculated that Alex' choice of SimpleDB has given him a 10 to 1 cost advantage over a solution based on an on-premise or hosted database system.
Glue also makes use of EC2 for processing, and S3 for storage. In fact they are now storing over 30 million objects in S3.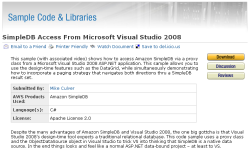 AWS Evangelist Mike Culver's new tutorial demonstrates a new way to access SimpleDB from Microsoft Visual Studio 2008 using a proxy class to trick Visual Studio into thinking that SimpleDB is a native data source. Mike has prepared a video which shows this new technique in action. It is available in Flash and Windows Media form.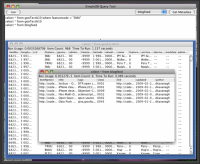 Last but not least, David Kavanagh emailed me to let me know that he has written a Visual Query Tool for SimpleDB. The tool supports a flexible query workspace, allows selection of any SimpleDB domain, displays domain metadata, and can show the results of several queries at once.
The tool will soon be shipped part of David's Typica library. For now you need to get it yourself using SVN. David told me that he wrote the initial code in about two hours and then spent another day or so cleaning it up.
And that wraps up another day at the keyboard for me!
— Jeff;
Modified 2/11/2021 – In an effort to ensure a great experience, expired links in this post have been updated or removed from the original post.