The Best time to be a developer is Right now!
Last week I spent my time evangelizing in Texas (Austin, Fort Worth, North Dallas, Richardson and Bryan) – Met tons of cool developers, hackers and enthusiasts. I met the most extravagant variety of people in this one trip and as I write this blog post, I tell myself "The best time to be a developer is Right Now" after looking at so many new ideas being implemented, so many new tools to work with, so many new development platforms to choose from. So If you are a developer, give yourself a pat on the back. Now its the time.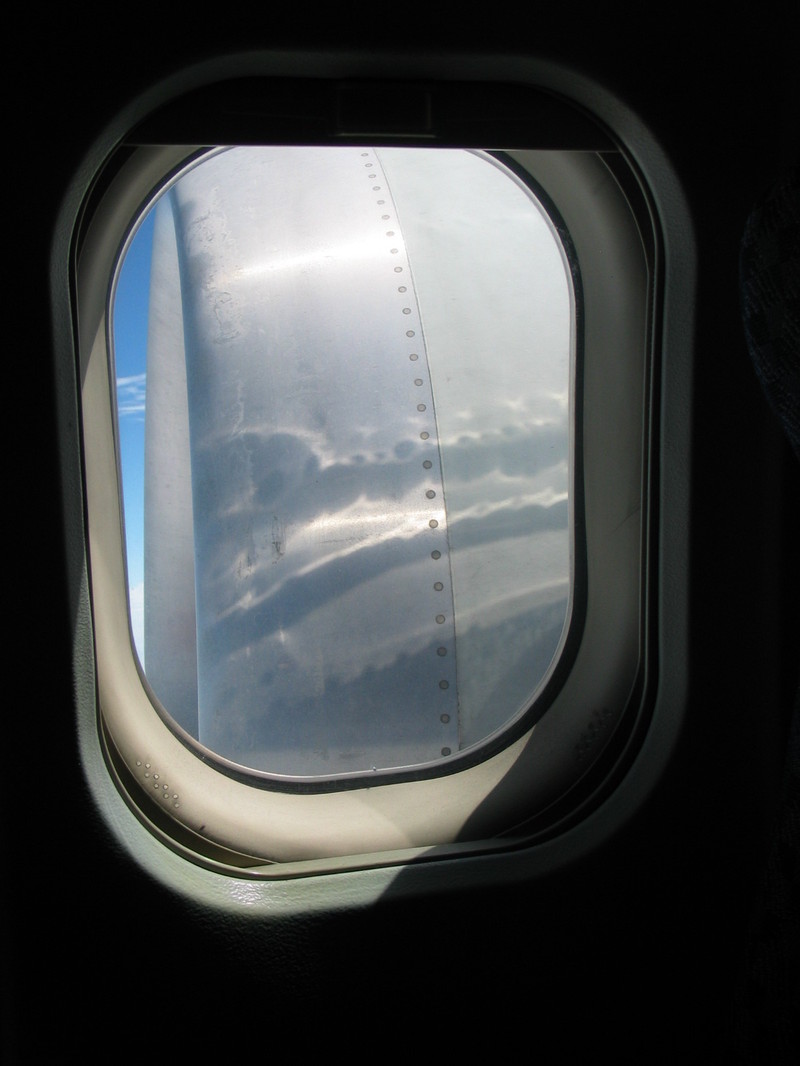 I started my trip on a direct flight from Seattle to Austin. If you haven't had the eternal divine pleasure to sit next to a "big fat roaring engine" few inches away in MD-80 flight that has excellent view from its window (see on your right), you are certainly missing it. I was stuck in that bucket seat for 4 hours. Still vibrating from head to toe, I somehow managed to get out, take some rest and drive to Austin Ruby on Rails User Group.
Despite the fact that most of the developers in the area were "rubied out" after 48-hours of hardcore Ruby at Lone-Star Ruby Conference that night, there were around 30-40 people in the audience. I like Rails and all the goodies I get for free (mainly the plug-ins). Hence my talk was mainly focused on – How you can build a processing pipeline (using Amazon Infrastructure "As A Service" services) using the power of Rails and it's beautiful plug-ins (especially attachment_fu and activemessaging). The best part of the meeting was Steve Odom's presentation about ElasticRails plugin – A small Rails plug-in that allows you to quickly deploy any "recipes" on Amazon EC2 from within Rails environment.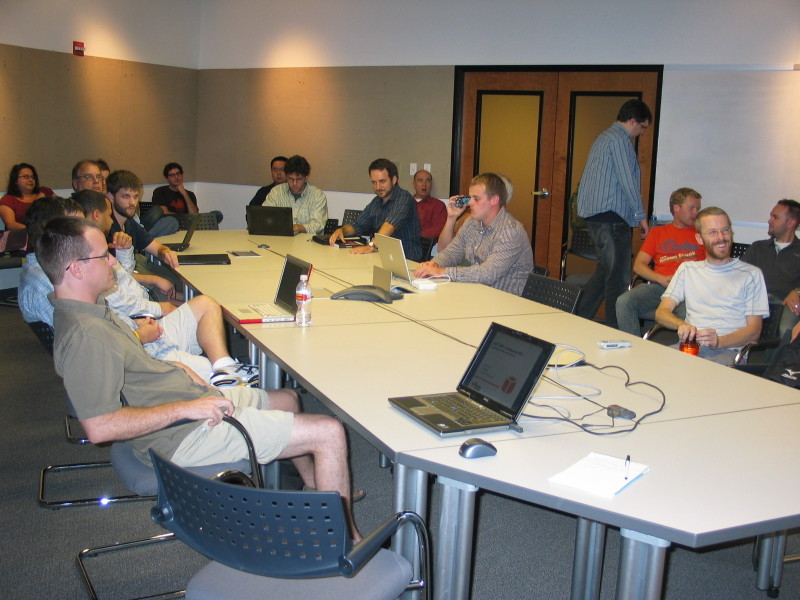 Steve's presentation was embedded with tons of experience and he shared his experience of using Amazon EC2 with the group. Steve articulated one fact very nicely; He said "lack of database persistence in Amazon EC2 is my friend" – It is forcing him to make the right design choices i.e. Forcing him to think of "Plan B" ahead and upfront in the game (for eg. doing backups periodically). In case something goes wrong, he is already equipped and prepared. This is different in case of traditional hosting where we assume things won't break and when they actually break, we go berserk. This is a good overall design principle "Always design for failover" because hardware does fail, outages do occur, disasters do come. Nobody can stop that. We could certainly mitigate the risk by designing our software for failover (for high-availability), redundancy (for high-reliability) and loosely coupled (for high-scalability) right from the start. I learned a lot at this Austin RoR group.
When I arrived in Austin, it was hot, humid and sticky. When I left it was windy accompanied by severe thunderstorms. Look what an evangelist can do to the weather ;-)
I reached DFW the next day and rushed to Fort Worth .NET Users Group meeting in Fort Worth. Enjoyed the enthusiasm in this group as I saw more than 70% of audience asking cool questions. If they ask questions, that means they were not sleeping, which implies the 2-hour presentation was not boring.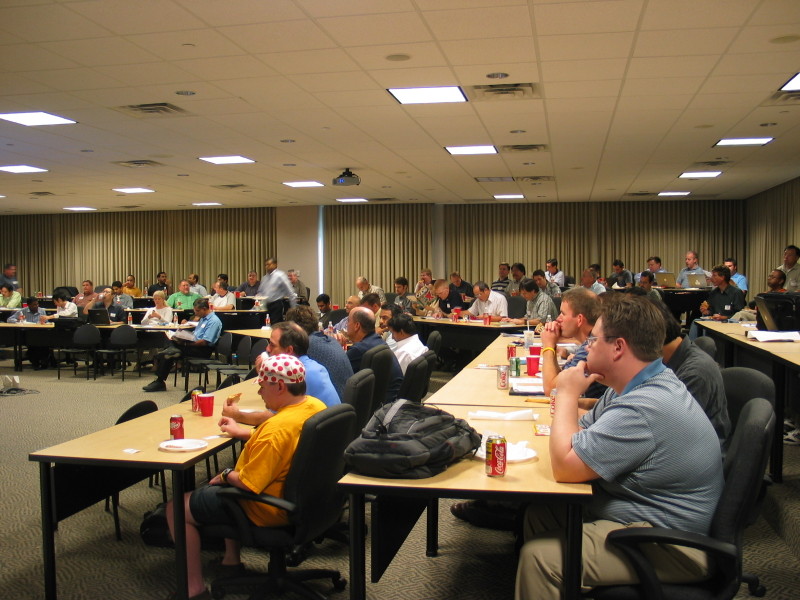 Next Stop was North Dallas .NET Users Group. Amazon Web Services spoke to around 80+ .NET developers about How Amazon Web Services can be used in .NET Applications. I demoed the What's the Tune Application that uses Amazon ECS, Amazon S3 and Amazon Mturk in a very innovative way and also demoed my S3Whois App. So many new applications are being built with new technologies all around the globe.
At Night, I met a small group from the North Dallas Linux Users Group for coffee at Caf Brazil. It is a nice place to hang around. Informal casual conversation with really smart Perl Hackers. Met one of the lead developers in Perl6 Parrot project and some people who take pride in having home-datacenters. I had heard of home-offices but never heard of home-datacenters. Really cool!
I flew to AggieLand – College Station and Bryan to meet with a bunch of designers and developers who had invited us to come and speak to their group. These college grads have started something really innovative – Similar to "incubator" concept, "The Creative Space" is space (yes! physical space) for start-ups. If you have an idea, you are in near Bryan, TX, this is a place to check out. They share all the resources from a Rails Developer to a designer, from artists to painters. Multiple people work on multiple concepts/ideas. Dollar Store across the street for supplies and office space in Bryan Downtown makes it the right place for people with high-energy-and-low-ego who want to get their ideas turn into action. At 7:00PM, AWS presented to a bunch of high-energy students at TAMU campus.
So, overall, it was an action-packed week in Texas. If you are a developer, I would highly recommend to join the group that interests you in your area. I met Hackers, coders, professors, students who proudly call themselves as developers. It's exciting times. Hence I say "The best time to be a developer is Right Now!"
Comments are always welcome!
— Jinesh