Windows Server 2012 Now Available on AWS
Today we have an awesome guest post from a General Manager on the Amazon EC2 team. Enjoy!
— Jeff;
---
Before talking about Windows Server 2012, let me first introduce myself. My name is Tom Rizzo and Im the General Manager for the Windows team in AWS. I previously worked at Microsoft in a variety of business groups including Exchange Server, SQL Server and SharePoint Server. Im excited to be at Amazon helping AWS be the best place for customers to run Windows and Windows workloads.
Were trying something new on the AWS blog by introducing a series we call Windows Wednesdays to help you learn more about the work were doing to support Windows on AWS. While well try to post at least twice a month about some new feature, tidbit or something you may not know about Windows on AWS, I wont promise that we wont miss a Wednesday or two but well do our best!
With that said, we couldn't wait for Wednesday for this announcement! AWS is excited to add Windows Server 2012 as an option for customers in addition to our existing Windows Server 2003 R2, 2008 and 2008 R2 offerings. Windows Server 2012 provides a number of exciting enhancements including a Server Manager for multi-server setup, Powershell Improvements, Internet Information Services 8.0 and the .NET Framework 4.5.
What's New in AWS for Windows Server?
Beyond whats new from Microsoft in terms of Windows Server 2012 functionality, here are some highlights specific to Windows Server 2012 on AWS.
Free Tier
First, you can use Windows Server, including Windows Server 2012, as part of the AWS Free Usage Tier. By using it, you get 750 hours of a Micro Instance per month for a full year! Its a great way to start evaluating Windows Server 2012 and when youre ready to use it in production, just stop your instance and restart it on a bigger instance. No migration and no messy moving around on different server hardware. AWS makes it easy for you to grow the power of your instances with a few clicks of the mouse.
New Languages
With the global expansion of AWS, we want to make sure we meet the needs of our worldwide customers. To that end, today were publishing 31 Windows Server 2012 AMIs which includes AMIs for 19 different languages and for Windows with SQL Server 2008 and 2008 R2 (Express, Web and Standard). The AMIs are available in every Region and can be used with any instance type.
AWS Elastic Beanstalk Support for Windows Server 2012
AWS Elastic Beanstalk allows you to focus on building your application, without having to worry about the provisioning and maintenance aspects of your applications. Elastic Beanstalk already supports Java, PHP, Python, Ruby, and Windows Server 2008 R2 based .NET applications. Starting today, it will also support Windows Server 2012 based .NET applications. You can conveniently deploy your applications from Visual Studio or the AWS Management Console.
.NET 4.5 and Visual Studio 2012 Support
To support building applications on Windows with .NET, AWS supports the new .NET framework shipped with Windows Server 2012 – .NET 4.5. With integrated Visual Studio support, including the new Visual Studio 2012, getting started with building AWS applications is as easy as creating an AWS project in Visual Studio as shown below..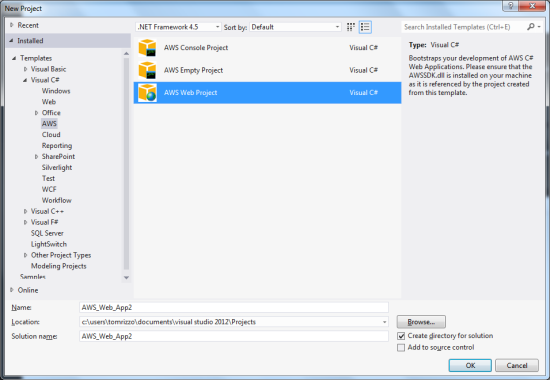 Included with the Visual Studio tools is the AWS Explorer which allows you to see all of your AWS resources without leaving the Visual Studio environment. In addition, you can deploy to AWS with just a few clicks and can decide whether you want to deploy to EC2 instances or use Elastic Beanstalk as the target for your applications.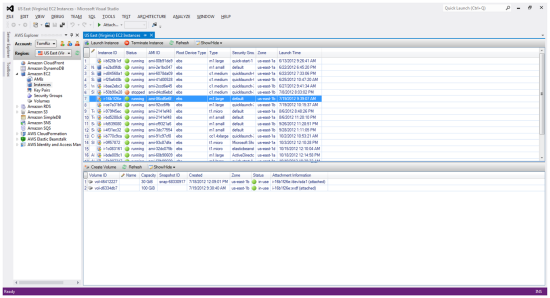 Getting Started
To help you get started with Windows Server 2012, we put together a quick introduction video that steps you through the process of creating a Windows Server 2012 instance, expanding the size of the root volume, adding an EBS volume, and connecting to the instance.
If you are attending AWS re:Invent next week, please feel free to drop by the EC2 booth to learn more. We'll also be presenting several sessions on Windows.
— Tom