Securely and efficiently leverage your Operational Technology and Information Technology data in the cloud for new insights and disaster recovery using Ignition, NetApp and AWS
Introduction
Industrial companies are actively pursuing strategic advantages of modernizing their operational technology (OT) and Information Technology (IT) to drive business value, but are limited by fixed storage and compute capacity available onsite. Data scientists and process engineering leaders recognize the need to leverage this operational data to gain insights, optimize processes, and enhance business value. Data Scientists and Process Engineers are looking to adopt advanced analytics technologies such as multi-dimensional dashboarding and machine learning to gain new insights from their OT data. Organizations that successfully generate business value from their data will outperform their peers. An Aberdeen survey saw organizations who implemented a data lake outperforming similar companies by 9% in organic revenue growth. In this blog post, we will highlight how NetApp and Inductive Automation collaborated to offer solutions that opens up OT+IT data into the Amazon Web Services (AWS) Cloud and solve industrial challenges. First, let's start by introducing the core offerings from Inductive Automation and NetApp.
Inductive Automation and NetApp overview
Inductive Automation, a leader in Supervisory Control and Data Acquisition (SCADA)/ Human-Machine Interface (HMI), Historian and the Industrial Internet of Things (IIoT) offers an industrial software called Ignition. Ignition is an application that acts as the hub for industrial data on your plant floor for total system integration. It integrates with many brands, models, or platforms, and talks to your plant-floor equipment and bridges the gap between OT and IT. Ignition allow users to collect a vast amount of real-time and business data, providing valuable insights into trends, patterns, and equipment performance. The OT and IT data stored in Ignition can be used to diagnose failures and improve reliability and uptime, which are critical for any business. Ignition is a powerful tool that enables you to gather information about the operation of programs, diagnose problems, and take corrective action on these problems before they lead to costly downtime. For manufacturing customers, this can mean identifying and addressing equipment malfunctions before they cause production delays. For oil and gas customers, this can mean identifying and addressing potential safety hazards before they lead to accidents or spills.
NetApp and AWS have partnered to provide an industry-leading solution that enables you to leverage the power of the cloud to improve your operations. NetApp offers differentiating data synchronization tools from on-premises databases to cloud replica, provided within Amazon FSx for NetApp ONTAP . Data compression, compaction, and de-duplication minimize the demands on networks, making it possible to connect plants that have not traditionally been connected to external Internet networks. NetApp Spot Security can also be leveraged to rapidly identify anomalous behaviors associated with cyber-attacks, lock them out, and provide means for recovery. This partnership enables you to take advantage of the power of the cloud to improve your operations and increase your revenue.
Use cases for using AWS Cloud with Inductive Automation and NetApp
Inductive Automation's Ignition data historian is used in many forms of industrial manufacturing and process management spanning many industries: automotive, agriculture, food & beverage, energy, waste management, etc. These customers are continuously looking for new technologies and ideas to improve their productivity, efficiencies, and profitability. An important emerging trend is to connect your on-premises operational environment to the cloud or move to the cloud completely. Existing users of Ignition, depending upon their existing level of digital and process maturity, can benefit from the solution converging OT and IT data into AWS Cloud (as shown below) especially stakeholders like: plant general managers, production operation managers, those responsible for plant efficiency, product quality, supply chain optimization, and vendor management.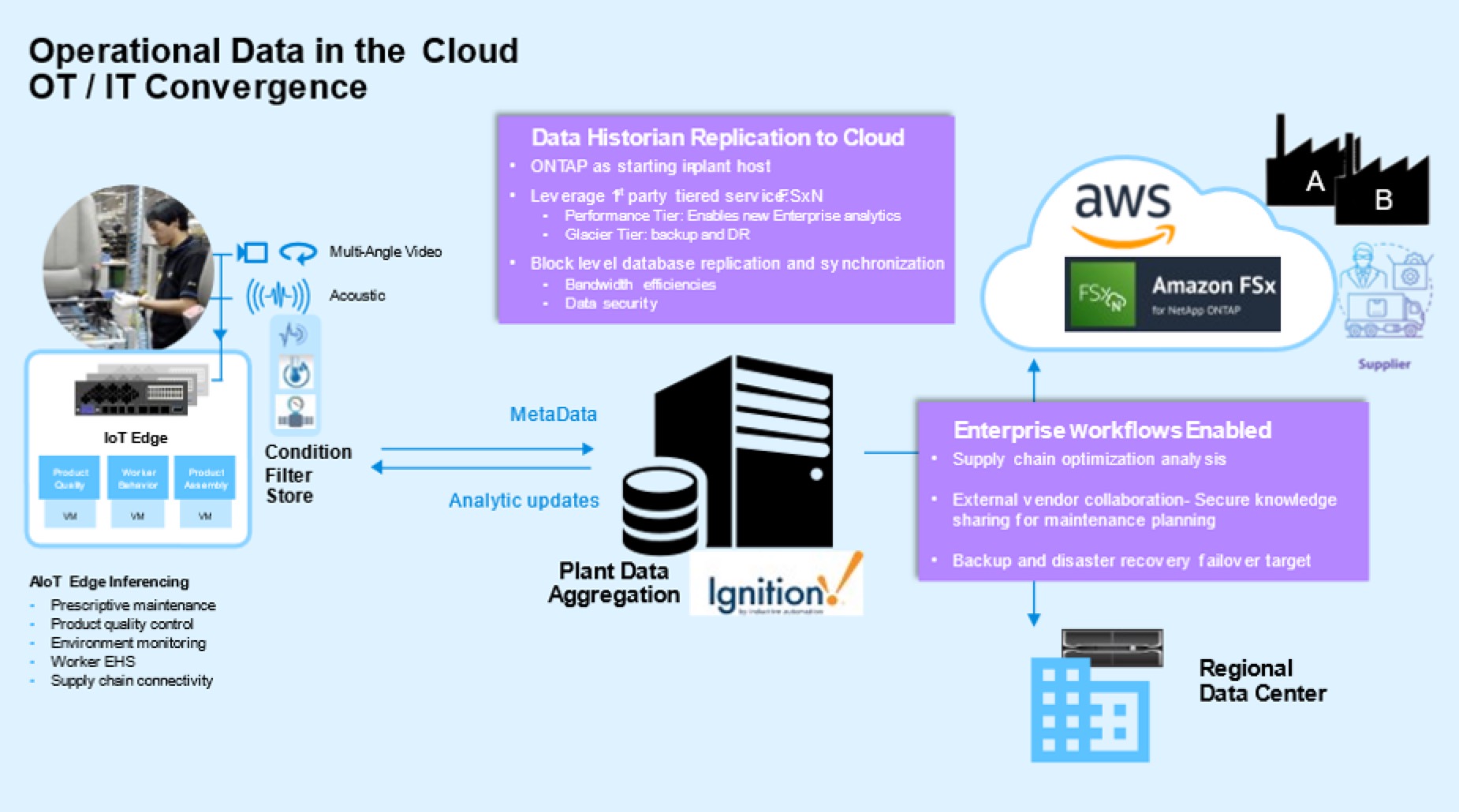 Historically, plant operations have been siloed within the plant, making it difficult to share data and insights with other parts of the organization, such as ERP, MES, and financial systems. One of the biggest pain points for plant operations is the siloed or air-gapped nature of operational data. This makes it difficult for vendors responsible for maintenance or production optimization to access the data they need. Communication delays can also impact the resolution of production disruptions. A lack of connected systems (OT / IT convergence) can also lead to delays or lack of visibility across the supply chain, resulting in unexpected disruptions or delays in actions. There are three types of use cases shown in the figure below that are addressed by the Ignition and AWS solution mentioned above, and we are going to discuss each of them.
OT+IT Data Stream to Cloud using Amazon FSx for NetApp ONTAP
The combination of NetApp Data Fabric data services and Amazon FSx for NetApp ONTAP can help make supply chain communications timelier and more efficient. It provides synchronization services from site-level Ignition databases to the AWS cloud. Amazon FSx for NetApp ONTAP enables secure collaboration with key vendors and partners, minimizing unplanned downtime and reducing time to problem resolution. By sharing operational data through FSx for NetApp ONTAP, you can establish enterprise best practices for asset maintenance, intelligent supply chain, worker efficiency and safety. Additionally, the solution enables you to easily scale up or down the volumes of operational data you are sharing as needed. This flexibility enables you to adapt to changing business conditions and optimize your operations to meet your specific needs. This replicated copy can facilitate active knowledge sharing across your organization and collaborate more effectively with your partners, vendors, and customers, which can result in improved operations and increased revenue. Running Ignition in AWS using FSx for NetAPP ONTAP enables you to reduce on-premise infrastructure as well as reducing overall TCO.
Industry 4.0 is fundamentally changing the manner in which industrial customers operate using cloud-based technologies. One key tool in achieving this is by hosting industrial data historians aggregating data from various sites. By extending Ignition data to the cloud using AWS cloud services, customers are able to gain elasticity, scalability, and resilience that facilitate the efficient collection and analysis of valuable combination of OT+IT data. With AWS cloud services, industry leaders can now use new types of analytics like machine learning with Ignition stored in the cloud. This helps them to identify, and act upon opportunities for business growth faster by attracting and retaining customers, boosting productivity, proactively maintaining equipment, and making better informed decisions.
Replication of plant data in the cloud
NetApp ONTAP data management software enables you to create a writable copy of a volume, known as volume clone. A clone is a point-in-time, writable copy of the parent volume. Changes made to the parent volume after the clone is created are not reflected in the clone. The DataFabric Manager server helps you manage clone hierarchies by making it easier to view clone relationships between volumes. By using Operations Manager, you can view clone volume and the parent volume information. NetApp replication to the cloud creates a copy of Ignition in the cloud to allow scenarios like sharing insight knowledge with vendors, test development and QA scenarios, perform site-to-site comparisons, and address supply chain optimization use cases. You get faster time to insights and reduced time to problem resolution. You can create or delete copies of Ignition environment at will with zero cost impact.
Disaster Recovery using SnapMirror
NetAPP SnapMirror is a feature of NetApp ONTAP that provides integrated remote backup/recovery and disaster recovery with incremental asynchronous data replication leveraging cloud storage resources. SnapMirror enables you to replicate Ignition data from specified source volumes or qtrees to specified destination volumes or qtrees, respectively. This helps you address disaster recovery and adhere to your SLAs. You can also perform testing of Ignition before migration. SnapMirror allows you to perform roll forward/roll backward snapshots. Since the updates are incremental and not full image updates, you a faster time to recovery and reduction in non-productive time.
Summary
In summary, a data historian is a powerful tool that enables you to gather information about the operation of programs, diagnose problems, and take corrective action before they lead to costly downtime. By integrating with enterprise IT systems and providing distributed, scalable historical databases, it can help organizations transform operations with insight into trends, patterns and equipment performance. Using NetApp tools and Amazon FSx for NetApp ONTAP solution with Inductive Automation's Ignition can help you connect stakeholders, improve plant operational efficiencies, and reduce the Total Cost of Ownership. The partnership between NetApp and AWS enables you to take advantage of the power of the cloud to improve your operations and increase your revenue. By eliminating data historian silos, supporting business decisions with data from globally distributed operations and systems, reducing time to share key operational insights with vendors and partners, implementing predictive analysis to deliver actionable insights across your organization, and performing plant-wide analysis to compare performance across different locations. This solution can help you improve your operations, increase your revenue, and reduce your costs, regardless of whether you are in the manufacturing or oil and gas industry.