Available Now: Beta release of AWS Diagnostics for Microsoft Windows Server
Over the past few years, we have seen tremendous adoption of Microsoft Windows Server in AWS.
Customers such as the Department of Treasury, the United States Tennis Association, and Lionsgate Film and Entertainment are building and running interesting Windows Server solutions on AWS. To further our efforts to make AWS the best place to run Windows Server and Windows Server workloads, we are happy to announce today the beta release of AWS Diagnostics for Microsoft Windows Server.
AWS Diagnostics for Microsoft Windows Server addresses a common customer request to make the intersection between AWS and Windows Server easier for customers to analyze and troubleshoot. For example, customers may have one setting for their AWS security groups that allows access to certain Windows Server applications, but inside of their Windows Server instances, the built-in Windows firewall may deny that access. Rather than having the customer track down the cause of the issue, the diagnostics tool will collect and understand the relevant information from Windows Server and AWS, and suggest troubleshooting and fixes to the customer.
The diagnostics tool can work on running Windows Server instances. You can also attach your Windows Server EBS volumes to an existing instance and the diagnostics tool will collect the relevant logs for troubleshooting Windows Server from the EBS volume. In the end, we want to help customers spend more time using, rather than troubleshooting, their deployments.
To use the diagnostics tool, please visit http://aws.amazon.com/windows/awsdiagnostics. There you will find more information about the feature set and documentation about how to use the diagnostics tool.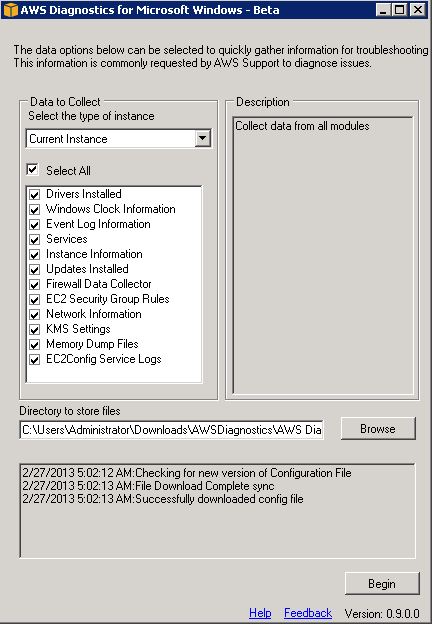 As this is a beta release, please provide feedback on how we can make this tool more useful for you. You can fill out a survey here.
To help get you started, we have created a short video that shows the tool in action troubleshooting a Windows Server instance running in AWS.
— Shankar Sivadasan, Senior Product Manager