AWS Trusted Advisor Update – Notification, New Dashboard, Another Check
The AWS Trusted Advisor monitors your AWS resources and provides you with advice for cost optimization, security, performance, and fault tolerance. The 31 checks performed by the Trusted Advisor will help you to monitor and improve your use of Amazon EC2, Elastic Load Balancing, Elastic Block Store, Amazon S3, Auto Scaling, IAM, the Relational Database Service (RDS), Route 53, and other AWS services.
Today we are improving the Trusted Advisor with support for weekly email notifications, an improved dashboard, and another check. Let's take a look at each new feature.
Email Notifications
Trusted Advisor can now be configured to send weekly email updates (English or Japanese) to the Billing, Operations, and Security contacts associated with your account, as desired: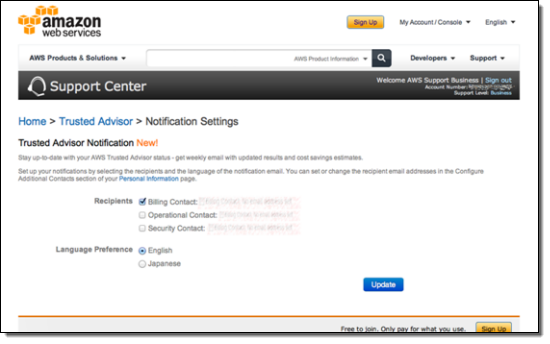 Improved Dashboard
We have added additional information to the Trusted Advisor dashboard, while also making the navigation both cleaner and simpler: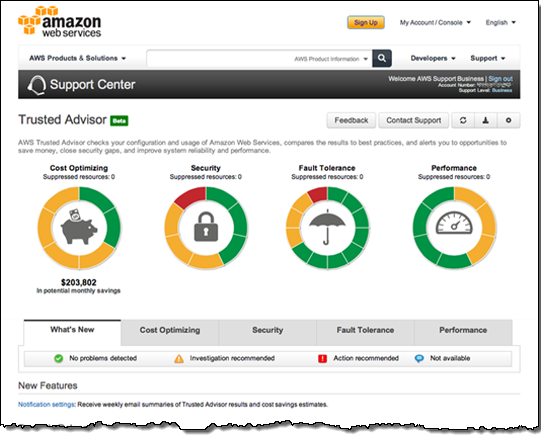 Another Check
The newest Trusted Advisor check looks for Standard EBS volumes that are potentially over-utilized. These volumes might benefit from the use of Provisioned IOPS.
Available Now
The AWS Trusted Advisor is available to Business and Professional members of AWS Premium Support; the features outlined above are available today and you can start using them today.
— Jeff;