Bizo SDB Tool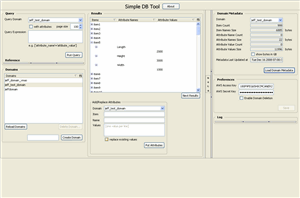 Bizo is a B2B advertising network running entirely on top of AWS. They needed a GUI built on top of SimpleDB and decided to extend the Firefox plugin suite with the addition of SDB Tool.
The new Bizo SDB Tool provides a nice visual interface to Amazon SimpleDB in the form of a Firefox plugin. After installing the tool and entering your AWS account credentials, you can fetch the list of your SimpleDB domains, create and delete domains, and run queries. Query results are shown in outline form, and you can also add new items.
Source code for SDB Tool is kept in Github and can be found here. Read more on the Bizo blog.
— Jeff;