Cirrhus 9 Qualified Machine Image Webinar – August 12th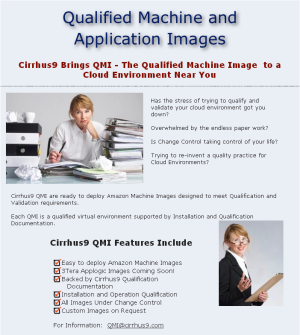 Mike from Cirrhus9 wrote to let me know that they'll be conducting a webinar on August 12th to discuss their new Qualified Machine Image (QMI) for the Life Science and Pharmaceutical industries. The QMIs are Amazon EC2 AMIs with complete installation and operation documentation.
Currently in beta testing, the QMI is designed to help organizations meet the FDA's 21 CFR Part 11 requirements for validation.
The webinar is free but registration is a must.
— Jeff;