Estimate your costs – AWS Simple Monthly Calculator
Note: The Simple Monthly Calculator described in this post, while still functional, has been superseded by the newer and more powerful set of AWS TCO Calculators.
— Jeff;
---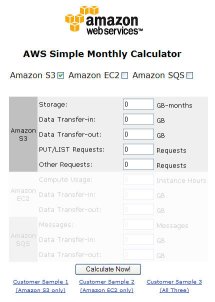 We created a JavaScript-based tool that allows you to calculate your monthly cost for using Amazon S3, Amazon EC2, and Amazon SQS.
This tool incorporates the latest pricing changes including the tiered pricing model for download bandwidth.
Use this tool to estimate your monthly bill, to determine your best and worst case scenarios (if you get Slashdotted, Dugg etc.), and identify areas of development to reduce your monthly costs and even compare it with other service providers who do not offer utility-style of billing (pay-as-you-go).
You can view the calculator here:
http://calculator.s3.amazonaws.com/calc5.html
Any feedback to improve this tool is always welcome. Please use the comments section to let us know whether this tool was helpful.
— Jinesh