Join me for the Camp re:Invent Trivia Challenge
With less than 3 weeks to go until AWS re:Invent 2018, my colleagues and I are working harder than ever to produce the best educational event on the planet! With multiple keynotes, well over two thousand sessions, bootcamps, chalk talks, hands-on workshops, labs, and hackathons to choose from I am confident that you will leave Las Vegas better informed than when you arrived.
Challenge Me
Today I would like to tell you about an opportunity to put your AWS knowledge to use in a new way. Sign up now and join me for the Camp re:Invent Trivia Challenge (7:00 PM on November 28th in the Venetian Theatre). You will have the opportunity to compete against me by answering questions about AWS, have a lot of fun, and to pick up some of the limited edition Camp re:Invent and Jeff Barr pins. I have no idea what to study or how to prepare, so things could get very interesting really fast.
Come for the Challenge, Stay for the Goodies
By the way, in addition to over 60 AWS pins that you can earn by participating in various events and attending certain sessions, you will be able to get them from our partners and sponsors. You can also trade pins with other re:Invent attendees. Here are just a few of the pins (via the unofficial @reinventParties list) that you can earn, find, or trade: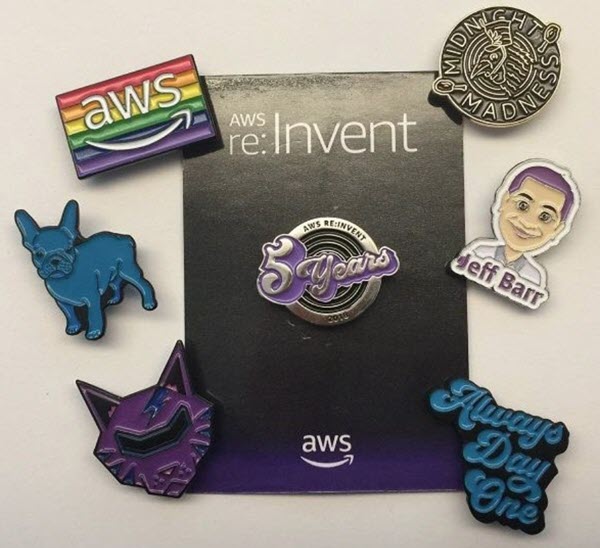 I will also bring along some of my cute new stickers: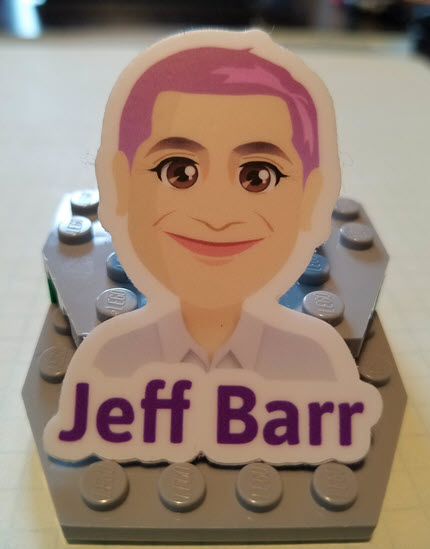 See you in Vegas
I am looking forward to meeting my fans and friends in Las Vegas. I have plenty on my agenda for the week, but I always have time to stop and say hello, so don't be shy!
— Jeff;