JumpBox for the AWS Free Usage Tier
We've teamed up with JumpBox to make it even easier and less expensive for you to host a WordPress blog, publish a web site with Drupal, run a Wiki with MediaWiki, or publish content with Joomla. You can benefit from two separate offers:
The new JumpBox free tier trial for AWS customers lets you launch and run the applications listed above at no charge. There will be a small charge for EBS storage (see below).
If you qualify for the AWS free usage tier it will give you sufficient EC2 time, S3 storage space, and internet data transfer to host the application and to handle a meaningful amount of traffic.
Any AWS user (free or not) can take advantage of JumpBox's offer, paying the usual rates for AWS. The AWS free usage tier is subject to the AWS Free Usage Tier Offer Terms; use of AWS in excess of free usage amounts will be charged standard AWS rates.
Note: The JumpBox machine images are larger than the 10 GB of EBS storage provided in the free usage tier; you'll be charged $1.50 per month (an additional 10 GB of EBS storage per month) if you run them in the free usage tier.
The applications are already installed and configured; there's nothing to set up. The application will run on an EC2 instance of its own; you have full control of the configuration and you can install themes, add-ins, and the like. Each application includes a configuration portal to allow you to configure the application and to make backups.
Here's a tour, starting with the 1-page signup form: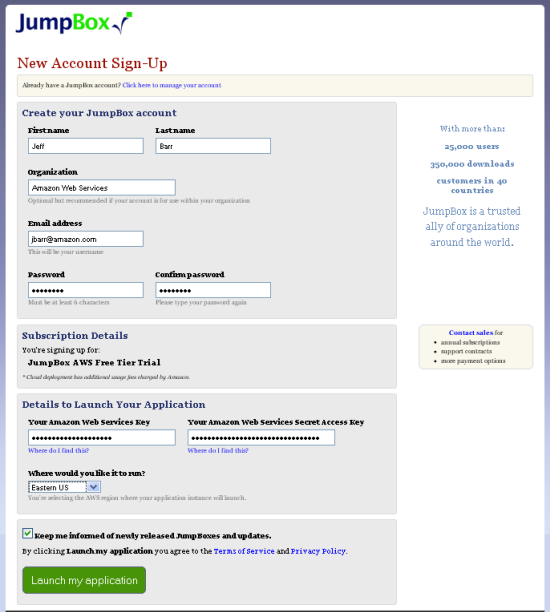 After a successful signup, JumpBox launches the application: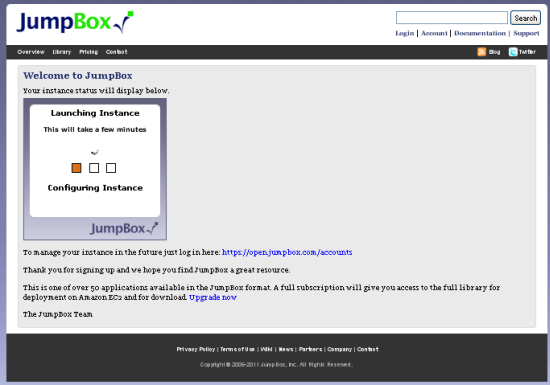 The application will be ready to run in a very short time (less than a minute for me):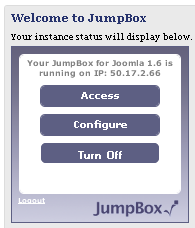 The next step is to configure the application (I choose to launch Joomla):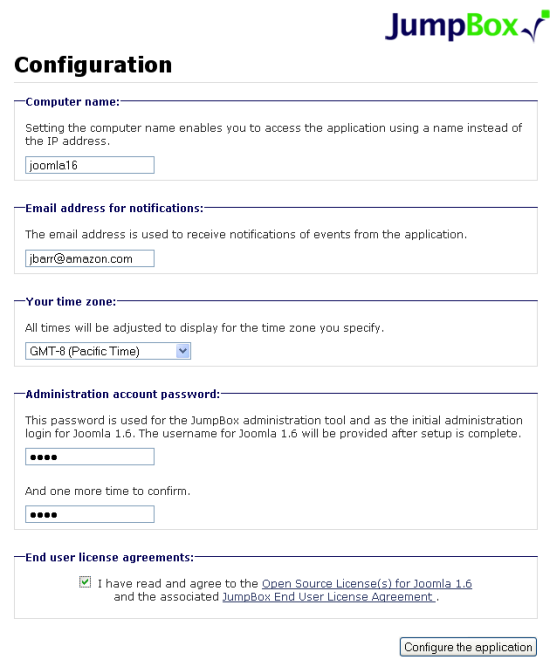 And I am up and running: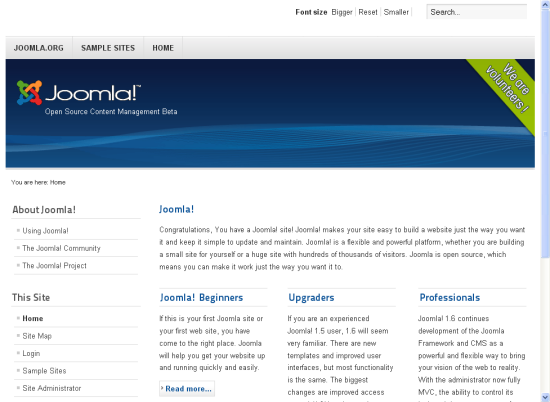 You can access all of the administrative and configuration options from a password-protected control panel that runs on the EC2 instance that's hosting the application: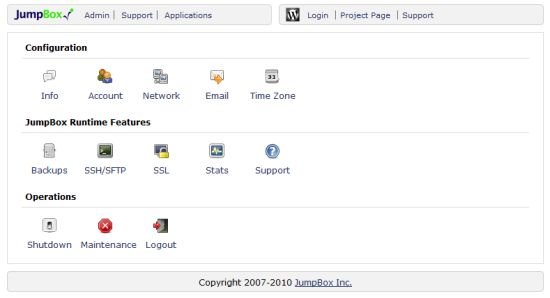 Here are the links that you need to get started:
As you can probably see from the tour, you can be up and running with any of these applications in minutes. As long as you are eligible for and stay within the provisions of the AWS free usage tier, you can do this for free. I'm looking forward to hearing your thought and success stories; leave me a comment below.
— Jeff;