JumpBox Jumps Ahead – Open Source as a Service on Amazon EC2
Kimbro and Sean at JumpBox have been breaking a lot of new ground as they strive to make it even easier to run a wide variety of open source applications in a service-oriented fashion.
I spent some time talking to Sean yesterday and he walked me through their latest step into the self-service, push-button world of the future. They've streamlined and simplified the process of launching a good-sized catalog of useful applications on Amazon EC2.
Once you've created your JumpBox account and entered your AWS Security Credentials, you can launch a polished and easy to manage application with just a few clicks. Let's say that your boss (or your spouse) says "Jeff, we need a wiki of our very own, and we need it now!" You browse through the JumpBox catalog and decide that the MoinMoin wiki is just the thing:
You click on the Launch on Amazon EC2 link and log in to JumpBox. You confirm your intent, and the EC2 instance is launched and ready to go in a few minutes:
As you can see from the final screen shot, the next step is to access the configuration page for the JumpBox:
You fill in the form and you are all set. The final page provides you with links to the admin page for your Wiki and for the JumpBox Administration Portal running on the instance: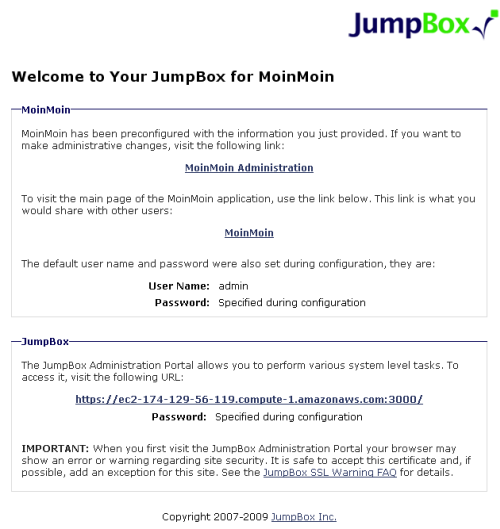 Your wiki is all set and you are a hero:
You can use the Administration Portal to manage backups and restores, naming, and much more:
Once you've supplied your AWS Credentials, backups can be scheduled to occur at any desired frequency:
You can restore any of the backups to the same instance of the Wiki or to an entirely new one:
You'll receive a confirmation email after you've finished setting up your JumpBox. The email includes all of the URLs needed to access, administer, and shut down the instance. I think they've pretty much thought of everything.
This looks pretty cool and I think that it will give lots of folks a jump-start into the cloud. Check out the application catalog and give it a spin.
–Jeff;