Launch Your Startup at AWS re:Invent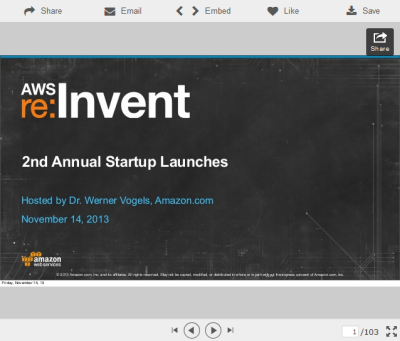 Sitting here at my desk in Seattle, I am surrounded by colleagues that are working non-stop to make this year's AWS re:Invent conference the best one yet! I get to hear all about the keynotes, sessions, and the big party without even leaving my desk.
In 2013, five exciting startups had the opportunity to launch at re:Invent in a session emceed by Amazon CTO Werner Vogels. Representatives from Koality, CardFlight, Runscope, SportXast, and Nitrous.IO each presented for five minutes and fielded Werner's questions for another minute.
The tradition will continue in 2014. If your AWS-powered startup is currently in stealth mode or if you are already out-and-about and are ready to announce a major feature on stage with Werner, I would like to invite you to apply to do so at re:Invent.
For consideration, please email the following information to awsstartuplaunch@amazon.com (keep your response to 500 words or less):
Company Overview
– Tell us your company name, location, website URL, and give us some information about your core product or service.
Launch Details
– Tell us what you plan to launch or announce.
Target Audience
– Describe the target market and audience for your product or service (businesses, consumers, teachers, students, etc).
AWS Usage
– List the AWS services that you use.
Team Background
– Include some background information on you and on your team.
Exclusive Offer
– Tell us about an exclusive offer that you can make to re:Invent attendees.
You'll need to have the information to us before 5:00 PM PT on September 30th. You've got a month and we can't wait to hear from you!
— Jeff;
Modified 2/2/2021 – In an effort to ensure a great experience, expired links in this post have been updated or removed from the original post.