Lendmonkey Media Trade Community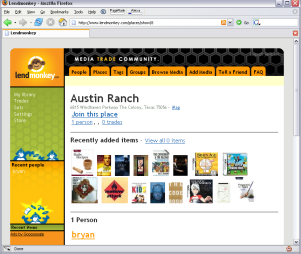 Today finds me in Chicago at the first-ever Ruby on Rails conference. Among a number of interesting sessions today, the most interesting one consisted of 5-minute "lightning" demos. Each developer had just 5 minutes to get up on stage, present his application, and answer questions.
Bryan Wood showed off Lendmonkey.com. Bryan explained to the crowd that he grew tired of buying expensive video games, playing them to the end inside of a month, and then facing a near-total loss of value when he attempted to trade them in for newer games. Instead of doing this, he created his site to allow people to trade media items (books, music, videos, and video games) with each other.
The site also supports public and private lending areas such as cafes, coffee shops, and even businesses (with a password-protected option). There's even an RSS feed of recent additions to the catalog.
Lendmonkey is supported by a $1 fee on each trade (but you can also earn credits by uploading the items that you have for trade), and there's also an Amazon Associates link. To make the lending process totally painless (avoiding a trip to the post office is always a net positive in my book), Bryan also sells CD and DVD mailers from the site, complete with prepaid postage. Seems to me that Bryan has done everything possible to take the friction out of the process.
Oh yeah, there's also a blog and an interview with Bryan and his business partner Chris.
— Jeff;