New – Amazon QuickSight Enterprise Edition
When I first wrote about Amazon QuickSight in 2015 (Amazon QuickSight – Fast & Easy to Use Business Intelligence for Big Data at 1/10th the Cost of Traditional Solutions), I mentioned that we would make the service available in Standard and Enterprise Editions.
Enterprise Edition
We launched the Standard Edition of Amazon QuickSight last month. Today we are launching the Enterprise Edition. Building on the capabilities of the Standard Edition, the Enterprise Edition adds Active Directory Integration and Encryption at Rest.
The Enterprise Edition supports user authentication via AWS Managed Microsoft Active Directory (AD). This allows your users to sign on to QuickSight using the credentials already in your AWS-hosted Microsoft AD or in a trusted on-premises AD. Either way, the Single Sign On (SSO) experience allows your users to get started more quickly and with less administrative overhead.
If you are responsible for administering your organization's base of QuickSight users, you can bring thousands of users on board and manage their permissions with just a few clicks. You can manage this user base using your existing toolset and with respect to your existing governance policies.
Here's how it all fits together: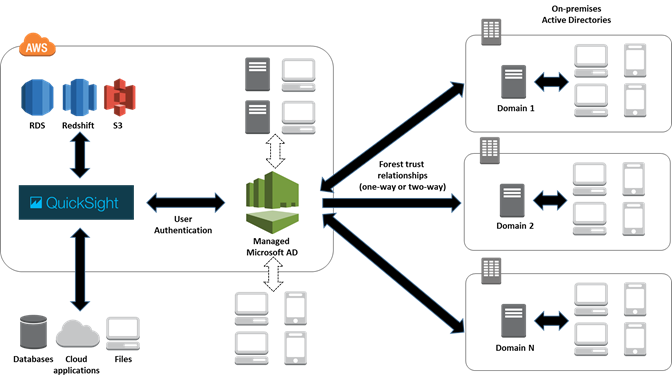 QuickSight relies on SPICE (Super-fast, Parallel, In-memory Calculation Engine) for highly scalable ad hoc analytics. The Enterprise Edition of QuickSight encrypts data at rest within SPICE using keys managed by Amazon in order to provide an additional layer of protection for your data.
Take Enterprise Edition for a Spin
From the administrative side, setting up the Enterprise Edition of QuickSight is really easy, and requires that you sign in as an IAM user with the requisite set of permissions (visit Sign up for Amazon QuickSight with an Existing AWS Account and scroll down to Set Your IAM Policy to learn more).
You select the Enterprise Edition, choose the AWS Managed AD Directory that describes your user community, and authorize access to the directory. Then you add (if not already present) an alias for the directory and use this as the QuickSight account name. Finally, you pick the AD groups within the Managed AD or trusted forest and enable them for QuickSight access.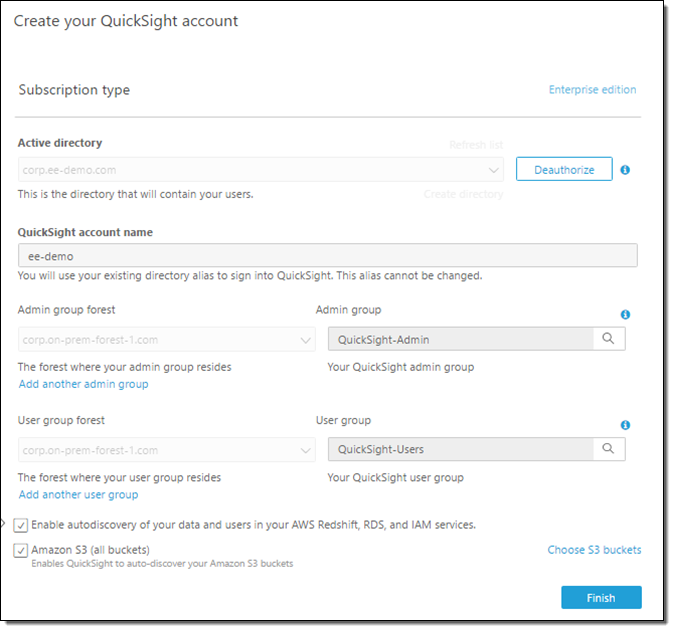 After you have completed the sign up process, users in the designated groups will be able to log in to QuickSight using the QuickSight account name (directory alias) and their existing AD credentials.
Password restrictions, timeouts, and user management are all handled through the appropriate AD (AWS or on-premises) settings in accord with your organization's policies. You can manage group membership using your existing tools, adding and removing users and assigning user & admin roles as needed.
Pricing and Availability
Amazon QuickSight Enterprise Edition is now available in the US East (N. Virginia) Region, with SPICE capacity available in the US East (N. Virginia), US West (Oregon), and Europe (Ireland) Regions. Pricing starts at $18 per month per user and includes 10 GB of SPICE capacity, which is pooled across all of the QuickSight users on the account (the single user QuickSight free tier and the 60 day, 4 user free trial apply to the Enterprise Edition as well). To learn more, visit the QuickSight Pricing page.
If you have a Microsoft AD instance provisioned in the US East (N. Virginia) Region, you can take advantage of the free tier and free trial, and get started today at no cost.