New AWS Certification for DevOps Engineers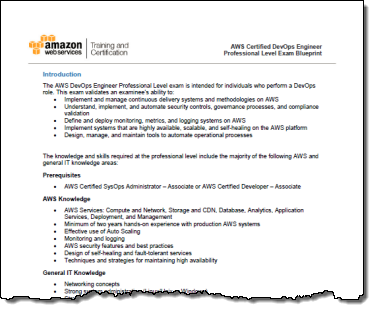 As more companies are adopting cloud computing, they are also establishing DevOps practices within their organizations as a way to provide stable, secure, and predictable IT environments and increase IT efficiency.
When I talk to our customers they tell me that they are looking for IT professionals with cloud computing expertise, with a special focus on DevOps skills. Last November we announced a new AWS Certification for the AWS Certified DevOps Engineer – Professional to help IT professionals validate their skills in the DevOps area and to allow employers to identify qualified candidates to lead DevOps initiatives.
Now Available
Today, we have released the exam publicly. We have also awarded our first DevOps Engineer certifications to those who successfully completed the beta exam.
The AWS Certified DevOps Engineer – Professional certification is the next step in the path for AWS Certified Developers and SysOps Administrators. It validates technical expertise in provisioning, operating, and managing distributed application systems on the AWS platform. The exam is intended to identify individuals who are capable of implementing and managing systems which are highly available, scalable, and self-healing on the AWS platform. You must already be certified as an AWS Certified Developer – Associate or AWS Certified SysOps Administrator – Associate before you are eligible to take this exam. Find the Exam Guide, a practice exam, and other resources at aws.amazon.com/certification.
Congratulations to everyone who has already earned their AWS Certified DevOps Engineer – Professional certifications!
— Jeff;