The New Cloud TCO Comparison Calculator for Web Applications
I have been having discussions related to the Total Cost of Ownership (TCO) of running workloads in the cloud as it compares to running them on-premises. One consistent conclusion is that weighing the financial considerations of owning and operating a data center or co-located facility versus employing a cloud infrastructure or a cloud service requires detailed and careful analysis. The TCO is often the financial metric that is used to estimate and compare direct and indirect costs of a product or a service. It typically includes the actual costs of procurement, management, maintenance and decommissioning of hardware resources over their useful life (which is typically a 3 or 5 year period). Given the plethora of different hardware configurations available today, it sometimes becomes difficult to know the actual costs and come up with an accurate TCO model that represents the true cost of running your application.
Im also hearing from customers that it can be challenging for them to do the right apples-to-apples comparisons between on-premises infrastructure and an infrastructure that is offered as a service. In practice, it is not as simple as just measuring potential hardware expense alongside utility pricing for compute and storage resources (read our TCO Whitepaper). We have noticed that customers struggle to compare the two models especially when they are trying to compare the TCO of a web application scenario that includes compute, storage, network access, load balancing and all the complements of the architecture.
I am very happy to announce the new TCO Calculator for Web Applications. This tool should help anyone with even a base level of familiarity with infrastructure to generate a fact-based apples-to-apples TCO comparison for on-premises and AWS infrastructure. The tool is simple to use and allows you to adjust your assumptions based on your current data center setup. In three easy steps, it provides both a summary and a comprehensive detailed report, with an FAQ that explains assumptions and methods used.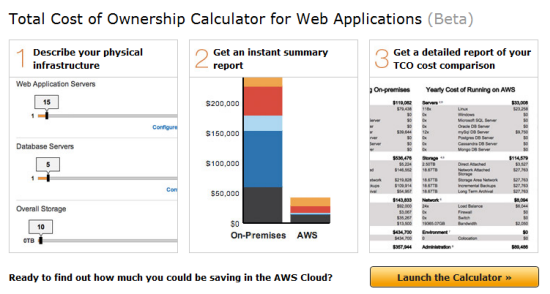 In order to provide an objective analysis, the tool uses a combination of data points from analyst research, and analysis of data from hundreds of customers by both AWS and AWS partners. The calculator also provides user-adjusted variables in order to ensure further objectivity. The calculator was commissioned to be built by 2nd Watch, an AWS Advanced Partner who leveraged their own wealth of customer data points and experience in operating both data center and AWS infrastructure.
Real Example
Let's take a look at an example to help us understand how this works. Lets assume that you wanted to refresh hardware and had to renew a contract with your existing co-lo facility and were evaluating whether AWS cloud will be more cost effective or not in a long run
Lets say that following is your existing or planned on-premises infrastructure specification:
Web Servers: 4 Production, 6 Dev and QA. 1 CPU, 6 Core, 2.6 Ghz, 4 GB RAM, 400 GB HD, Linux Ubuntu, 10% maintenance, 11% discount
Database Servers: 2 Production, 2 Dev and QA. 2 CPU, 4 Core, 1.6 Ghz, 16 GB RAM, 1.0 TB database, MySQL on Linux, 10% maintenance, 11% Discount
Storage: 4 TB SAN, no NAS, long term storage, or archive, 10% Maintenance Costs, 10% Discount
Network: Fully redundant firewalls, switches and load balancers, 50 Mbps Internet with 2 telecommunications providers – secondary independent 5MB backup provider
Environment: Cage (shared with other company equipment) Tier 1 Co-lo Facility, Dual Utility Providers, 1.5 Racks, 10% hardware/software maintenance, 3 year amortization
Administrative Overhead: 15% Administrative Overhead
Growth Rate: 30% annually
Usage Pattern: Spiky Predictable. Like most web apps, a predictable and cyclical usage pattern.
The beauty of this tool is that you will be able to input exactly this configuration and adjust your assumptions. Whether you use it by just answering seven simple questions, or you spend more time with it to model more detailed scenarios, it can save you lots of effort while providing comprehensive comparisons.
Most importantly, it will help alleviate most common mistakes that we see when customers develop TCO comparison models such as not including the 3-Year Reserved Instances in a 3-Year cost comparison analysis or not including Heavy Utilization RIs for your baseline Always-on workloads or underestimating the personnel costs and ignoring the applications usage patterns.
This web-based calculator is currently in beta and is currently optimized for the Web Application use case, although it can be used to model other infrastructure setups. As always, we are looking for feedback, suggestions and comments and hope to roll out more use cases and improve it over time.
Driving costs down for our customers is part of the DNA of Amazon and therefore also part of the DNA of AWS. Were seeing how customers from startups with hyper growth to large organizations with stable workloads are able to leverage our low prices, usage based billing, tiered pricing, and variety of purchasing options to continuously lower their cost of acquiring and operating applications. You can find more information, more whitepapers, tools and specific case studies on our Economics Center at http://aws.amazon.com/economics
— Jinesh;