New IDC White Paper – Business Value of Amazon Web Services Accelerates Over Time
Update (September 23, 2015): The 2012-era report mentioned in the blog post has been superseded by a newer one published in 2015. The post has been updated accordingly.
---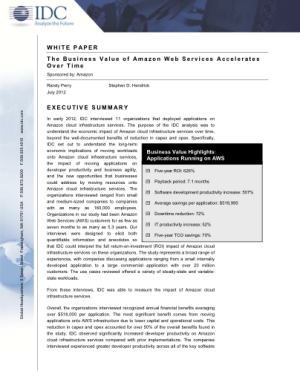 Analysts Randy Perry and Stephen Hendrick of IDC have just published a commissioned white paper titled The Business Value of Amazon Web Services Accelerates Over Time. You can download the paper now by clicking on the image at right.
Earlier this year, IDC interviewed 11 organizations that use AWS in an effort to understand the long-term economic implications of moving their workloads to the cloud. As part of the study they also looked for changes in developer productivity, business agility, and the ability to deliver new applications that could be attributed to AWS. The AWS customers that they talked to included Samsung, BankInter, Fox, Netflix, Tomlinson Real Estate Group, United States Tennis Association, and Cycle Computing.
The paper contains a complete recitation of their findings. To summarize:
The five-year TCO of developing, deploying, and managing critical applications on AWS represents a 70% savings compared to deploying the same resources on-premises or in hosted environments.
The average five-year ROI from using AWS is 626%. Interestingly enough, the return grows (when measured in dollars of benefit for each dollar invested) over time. After 36 months, the organizations interviewed were realizing $3.50 in benefits for each $1 invested in AWS. After 60 months, the benefit grew to $8.40 for every $1 invested.
Over a five year period, the companies saw cumulative savings that averaged over $2.5 million per application. This included savings in development and deployment costs (reduced by 80%), application management costs (reduced by 52%), and infrastructure support costs (reduced by 56%). Again on average, these organizations were able to replace $1.6 million in infrastructure with $302,000 in AWS costs.
Our customers ran (and measured) both steady-state and variable-state workloads. They ranked these workloads as very critical (4.5 out of 5). In addition to costs savings, they were able to increase their business agility, and brought their applications to market far more quickly.
Enjoy the paper, and leave a comment if you like it!
— Jeff;
Modified 2/10/2021 – In an effort to ensure a great experience, expired links in this post have been updated or removed from the original post.