New – Set Preferred Payment Currency for your AWS Account
With customers in 190 countries, AWS is truly a global phenomenon. Today we are making the AWS bill payment process more powerful, by adding support for credit card payments in eleven additional currencies. This support comes in addition to our existing support for US Dollars (USD). This will relieve your accounting department of the burden of paying and tracking conversion fees and other costs associated with the use of foreign currencies (be sure to share this news with your accounting department and your CFO).
You can now open up your Account Settings, specify your desired payment currency, and accept the terms and conditions: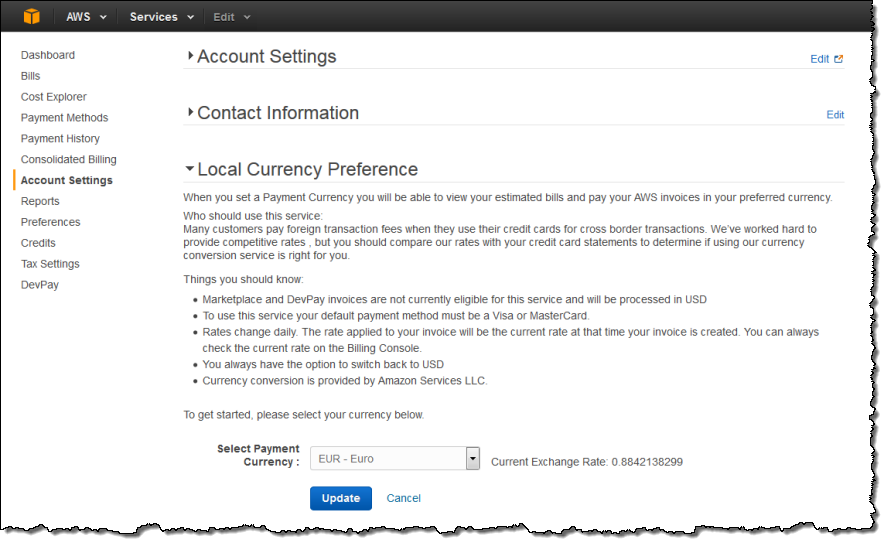 The following new options are available to you when you use an eligible Visa or MasterCard to pay your AWS bill:
Australian Dollars (AUD)
Swiss Francs (CHF)
Danish Kroner (DKK)
Euros (EUR)
British Pounds (GBP)
Hong Kong Dollars (HKD)
Japanese Yen (JPY)
Norwegian Kroner (NOK)
New Zealand Dollars (NZD)
Swedish Kronor (SEK)
South African Rand (ZAR)
Once set, the change takes effect immediately; you will be able to view and pay your AWS bill in the currency that you choose: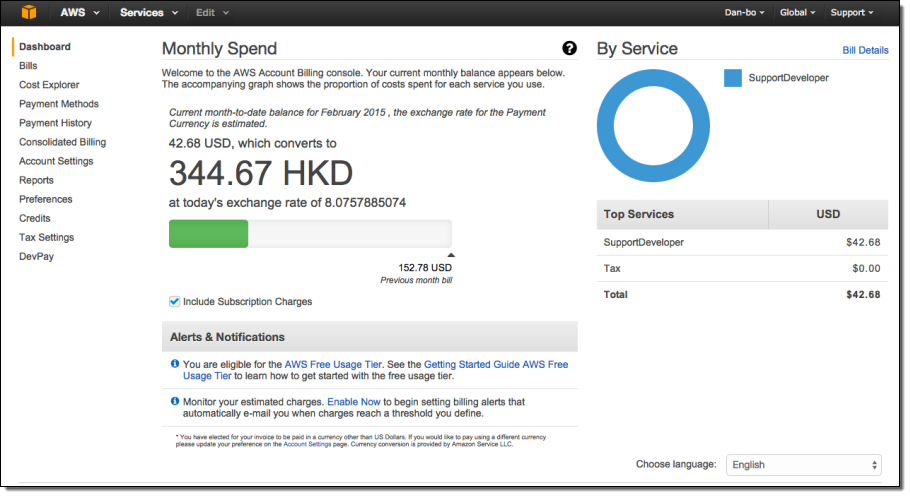 You will be able to know how much you are paying for AWS, in a currency that is familiar to you (no more mental math). Internally, bills will be computed in USD and converted to your preferred currency at a competitive exchange rate. Because your Visa or MasterCard will be billed in your local currency, you may also be able to avoid paying extra fees for foreign currency exchange!
Your preferred currency will be used in the Billing Console Dashboard, the Bills page, and in your Payment History. Pricing for AWS services and the AWS Billing Reports will still be shown in USD.
— Jeff;