Opportunity Knocks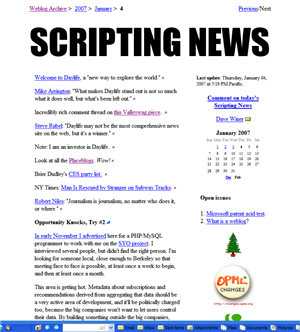 RSS pioneer Dave Winer has an idea for a cool application powered by S3. In his post "Opportunity Knocks,Try #3" Dave explains his idea:
I want to define a cloud in Amazon S3 space, a cloud of subscription information, some of it public and some of it only accessible to the user. We're going to depend on Amazon's ability to keep stuff private that we want private, and make available publicly the stuff we want to publish.
Dave was originally looking for a PHP developer local to the Bay Area. He's relaxed his standards a bit and is now willing to talk to developers familiar with other appropriate languages. To contact Dave, you'll need to visit this form and enter your information.
I'm not sure what Dave has up his sleeve, but I figured I would help him out with this post!
— Jeff;