Oracle Enterprise Manager (OEM) for Oracle DB Instances
Users of Amazon RDS for Oracle Database now have access to Oracle Enterprise Manager 11g Database Control, also known as OEM. Starting today, you can enable OEM and use it to manage your RDS for Oracle DB instances with just a few clicks in the AWS Management Console.
OEM Database Control is pre-installed and available at no additional charge for new and existing Amazon RDS for Oracle DB instances and all supported Oracle Editions: Enterprise Edition, Standard Edition, and Standard Edition One, for License Included and Bring Your Own License Customers.
In conjunction with OEM, we are also launching Option Groups. This feature simplifies DB administration by enabling you to save a set of options and their configurations so you can easily apply them to other DB Instances in the future.
To enable OEM for your RDS for Oracle DB Instance, please use the following steps.
First, select Option Groups from the AWS Management Console Navigation Links.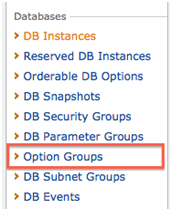 Next, from the Option Groups Screen, Select Create Group, fill in the fields, and then click Yes, Create.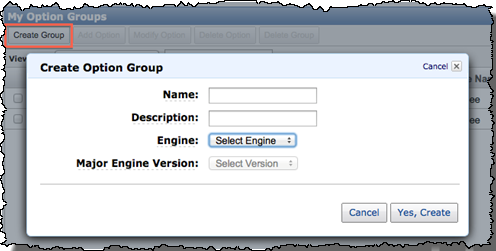 Select your newly created option group and then click Add Option. Youll see that OEM is selected by default. Choose your desired port and select a security group for the option: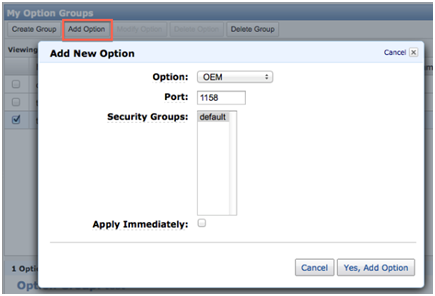 After youve added OEM to your option group, select your DB Instance and choose Modify:

Select your option group from the drop down and decide if you would like your change to take effect immediately, or during your maintenance window: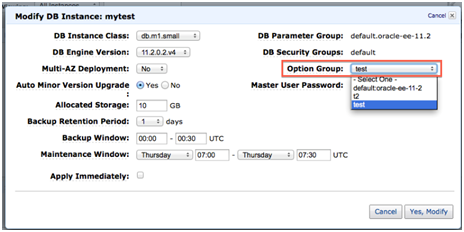 You can now access OEM for your database by visiting https://your-db-endpoint:1158/em .

To learn more about OEM and Option Groups, please see our documentation and the Amazon RDS for Oracle detail page. If you are new to Amazon RDS, you can get started for free with our sixty day Free Trial.
— Jeff;